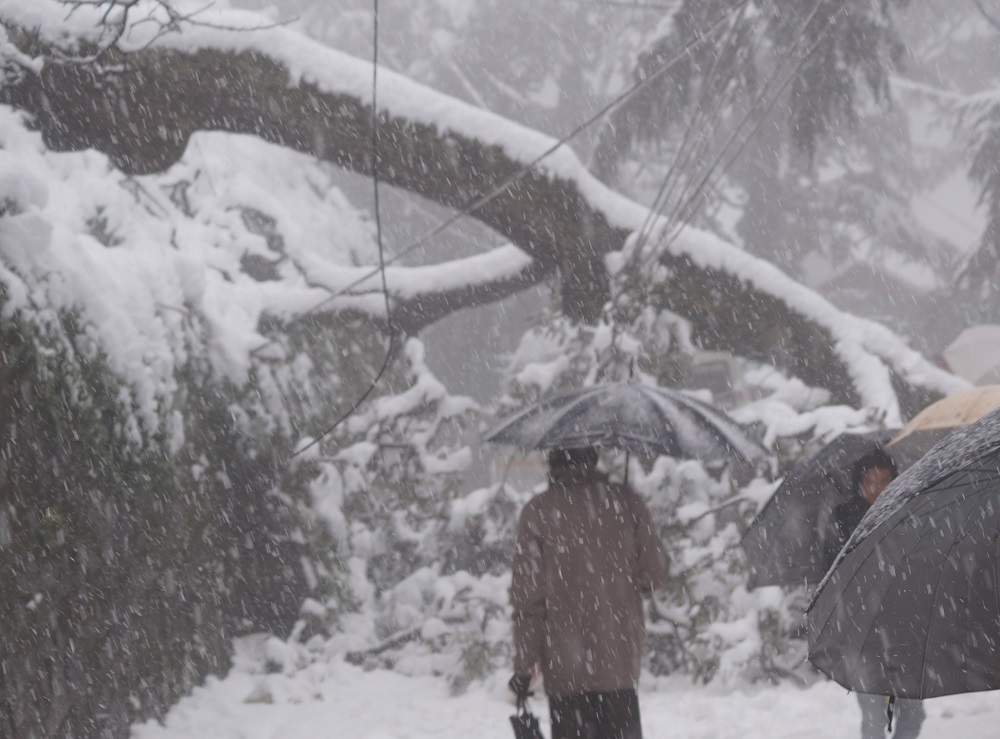 Season's heaviest snowfall has crippled life in historic Shimla city. Electricity, water supply and transportation were biggest hit. There are many places within the state capital which are facing blackout straight fourth day and no water supply making situation worse for the sufferer.
Himachal Pradesh Chief Minister Virbhadra Singh, in a review meeting of roads, electricity, and water and essential commodities in the areas affected by heavy snow fall, with senior officers of the state government, said Shimla being capital of the State is also face of the State and should be better prepared than others, in matter of services, being provided by various government agencies.
The Chief Minister released Rs. 25 crores for restoration of roads, electricity and water, in the areas, which were affected, by heavy snow fall during last three days.
He asked officers of electricity department to ensure supply of electricity in the capital by tomorrow evening and at the earliest, in other parts of the State.
Virbhadra Singh asked the officers, to utilize the funds available with them and said that additional funds would also be provided, as per requirement, of these departments. He said leaves of officers and officials of these departments, may be cancelled, as per need, of the respective departments.
Virbhadra Singh also ordered enquiry, into the death of a child in incubator in KNH during this period. He ordered that all the faulty generators, in use in hospitals, in Shimla should be immediately repaired or replaced as per, inspection report.
PW Department assured to open the roads earliest, and a work force of 14 thousand persons, has been pressed into service, to clear the roads.
He asked IPH officers to restore water supply in Shimla and other areas affected by the recent snow fall.
Additional Chief Secretary Tarun Shridhar, Narinder Chauhan, Dr. Shrikant Baldi, Manisha Nanda, Principal Secretary Jagdish Chander Sharma, DGP Sanjay Kumar, Commissioner MC Shimla Pankaj Roy, Special Secretary DD Sharma, Engineer-in-Chief PWD, MD Electricity, Chief Engineer IPH, D.C., S.P. Shimla were also present in the meeting.