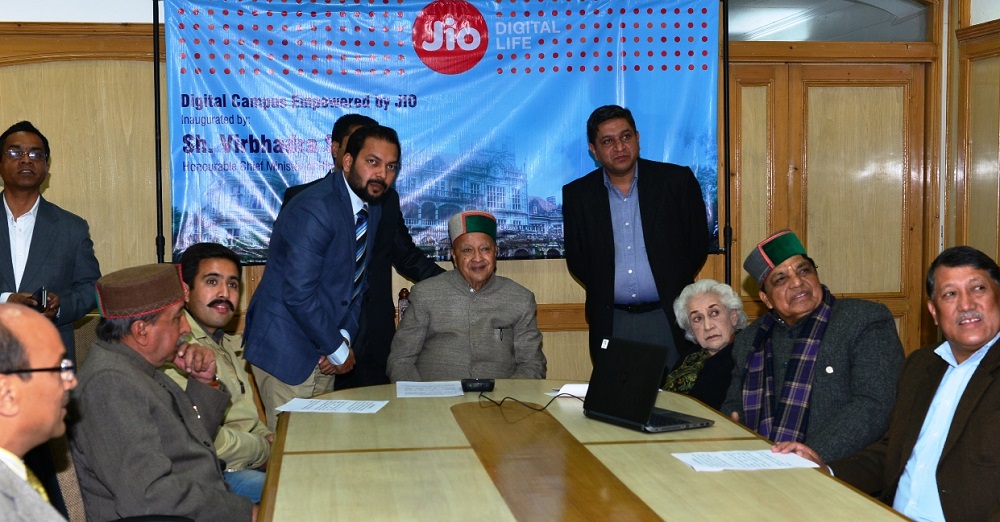 Shimla: Reliance Jio is to provide free Wi-Fi facility in as many as 30 government colleges in the state. In the first phase Jio started facility in 18 colleges. Chief Minister Virbhadra Singh today launched the Reliance Jio Wi-Fi facility.
The colleges connected with internet facility in first phase are Government College, Solan, Hamirpur, Sujanpur, Nalagarh, Rampur Bushahr, Government Degree College, Sanjauli, Theog, Shahpur, Nagrota Bagwaan, Palampur, Ghumarwin, Chaura Maidan (Kotshera), Nahan, MLSM College, Sundernagar and Haripur besides, Shivalik Nursing Institute, Kamlanagar and RKMV, Shimla.
In the next phase 12 more colleges would be connected with Wi-Fi facility by Jio.
After the launching the facility, The Chief Minster said that Himachal had become one of the first States in the country to connect its district headquarters with high speed Wi-Fi facilities provided by Jio.
Singh said that development was incomplete if it did not touch the educational institutions, which he hoped, would provide more learning facilities to the students besides helping them in research and reference works.
Veteran politician advised the students to use the facility wisely and for the learning purpose only.
"Himachal is committed to transform the digital landscape and so to create world-class digital infrastructure in all its schools and colleges in times to come", said the Chief Minster, adding that empowering the students with the new technology and infrastructure would help in developed Nation as well.
The Reliance Jio is already providing free Wi-Fi facility in the state and has eaten into the revenue of BSNL, Airtel and other telecom companies. Reliance Jio has launched fee Wi-Fi facility in September 2016 and since the launch, BSNL in the state of Himachal has lost its over 20 percent revenue, while Airtel has also reportedly lost huge chunk of its business.