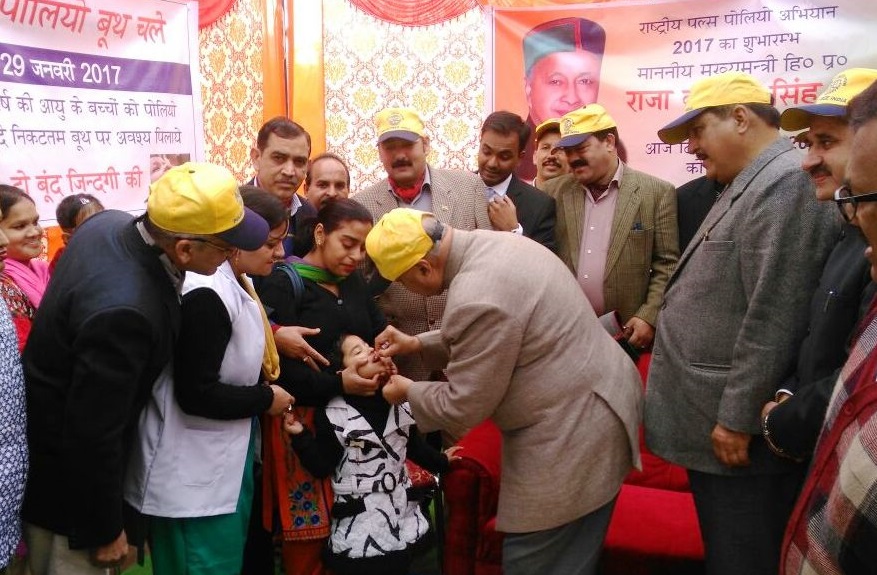 Nalagarh: As many as 6,74,240 children, below five years of age, in Himachal Pradesh is to be covered under Pulse Polio Programme for 2017, which began today and would be continue till 31st January, 2017.
As many as, 5876 Booths have been set up in the state for the purpose and 23,482 officials of various departments have been engaged in the process for door-to-door vaccination across the state. Children between 0-5 year age group would be administered OPV.
Chief Minister Virbhadra Singh launched first phase of Pulse Polio programme from Nalagarh in district Solan by administering Oral Polio drops to the small children.
He directed the health officials to make it sure that every child between 0-5 year age group be surely administered Oral Polio Vaccine, (OPV). He said that though our country and state is polio free but sustained efforts should be made to keep every child away from the dysfunction.
An eye should be kept on floating and migratory population, especially in border areas and industrial belts of state and to administer polio drops to their children as well.
Himachal was declared polio free in the year 2009 and last case was reported in Nalagarh area.
Instructions have been issued to transport authorities to direct drivers of state owned buses and private operators to stop at bus stands and on designated road side Polio booths, so that children travelling may be administered polio vaccine. Similarly, officials of industries department have been directed to cover labour colonies for the purpose.
The second phase will be held from 2nd April, 2017 to 4th April, 2017.