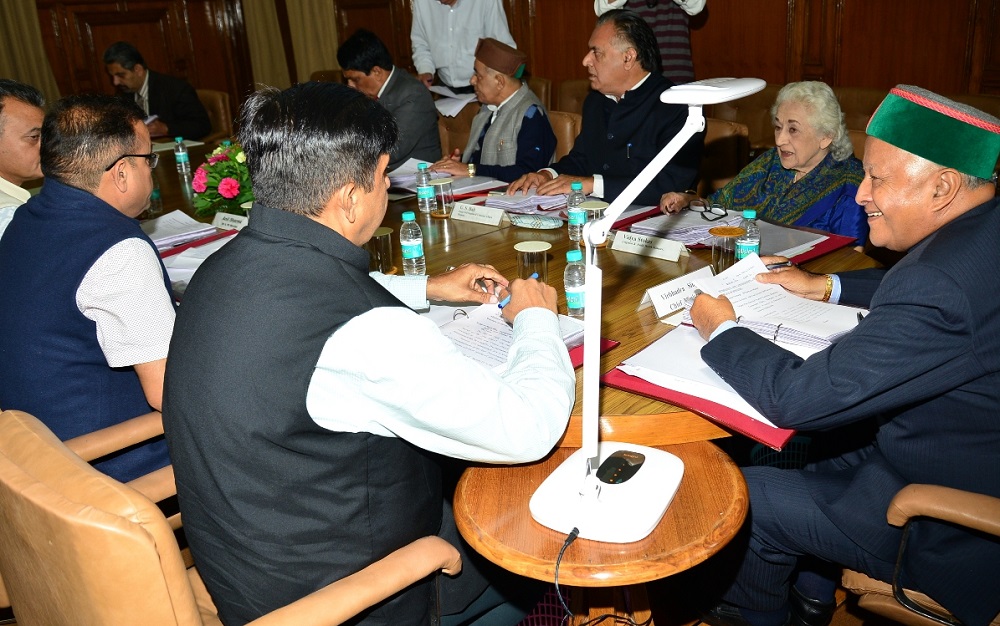 Shimla: The Himachal Pradesh Cabinet given approval to amend the 'Land Record Manual' by creating one Kanungo circle over every six Patwar circles leading to creation of 154 posts of Kanungos in the State. In addition to this Cabinet also decided to strengthen the 'Revenue Records Rooms' for which 148 posts of various categories were sanctioned.
The Cabinet presided by Chief Minister Virbhadra Singh, also decided that in lieu of allowing sell/ transfer of equity share above 26 percent to 49 percent of projects up to two MW capacity from Himachali promoters to Non Himachali and to sell/transfer equity shares above 49 percent to 51 percent of projects above two MW to five MW capacity from Himachali to Non Himachali, a fee at a rate of Rs. 25000 per MW is to be deposited at the time of signing Tripartite Agreement for transfer of project and the same is to be incorporated in Hydro Power Policy 2006.
The Cabinet also approved to cancel four Small Hydro Electric Projects namely Seri Nala (2.50 MW) in District Shimla, Malin-II (0.50 MW) in District Kangra, Tikar (1.00 MW) and Kandi (0.90 MW) both in District Mandi recommended by Himurja for failing to adhere to the guidelines as agreed upon.
The Cabinet approved filling up of 175 posts of various categories in the Health Society on contract basis through National Health Mission. It decided to fill up 57 posts in State Narcotics Drugs Psychotropic Substance Crime Control Unit (SNCC) and its field Units for prevention and effective law enforcement response to combat drug trafficking and drug abuse in the State. It approved filling up 21 posts of teaching faculty in Rajiv Gandhi Government Engineering College Kangra at Nagrota Bagwan, 12 vacant posts of Steno Typists on contract basis in Forest Department, six vacant posts of Steno Typists on contract basis in Animal Husbandry Department and 21 posts of various categories to strengthen Atal Bihari Vajpayee Mountaineering Institute Manali.
The state cabinet approved exemption from entertainment duty to New Cinema Houses for a period of five years. At present 10 percent of entertainment duty is levied on all type of entertainments. The exemption will boost opening new cinema houses.
The cabinet also approved revision of Monetary Benefits to Gallantry Award Winners. The lump-sum grant to the recipients of Paramvir Chakra and Ashok Chakra has been enhanced from Rs. 25 lakh to Rs.30 lakh and annuity from Rs. 1.25 lakh to Rs. 3.00 lakhs and similarly lump-sum grant to the recipient of Mahavir Chakra from Rs. 15 lakh to Rs. 20 lakh and annuity from rupees one lakh to two lakh as per the budget announcement of the Chief Minister. The cabinet approved enhancement in annuity for other categories of Gallantry Awards winners too.