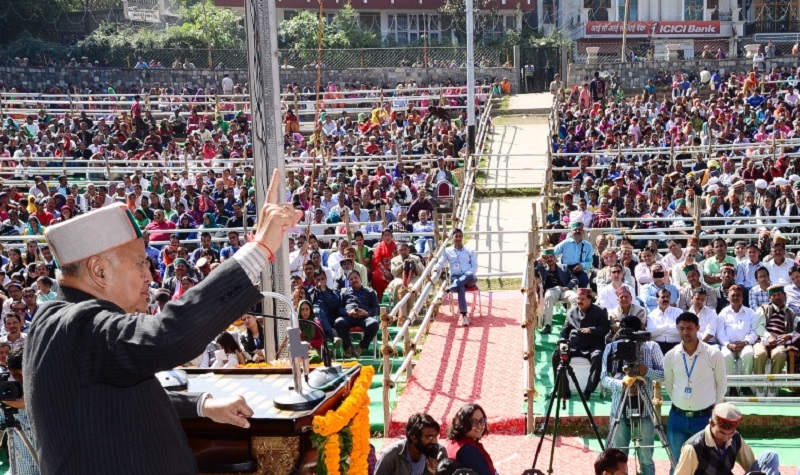 Kullu: The Himachal Pradesh government is considering to provide financial assistance for those coming for Dussehra festival with local deities from far-flung areas.
Chief Minister Virbhadra Singh, while presiding over the closing ceremony of weeklong international Kullu Dussehra here today, also announced increase of five percent Nazrana (presentation amount) to the deities and a sum of Rs. 10,000 to the Bajantaris, who accompany the local deities participating in the festival.
The Chief Minister, taking jibe at the BJP leader and local legislature Maheshwar Singh over the government decision of formation of Raghunath temple trust, cautioned not to bring politics in regional and religious traditions and festivals. He stated that "no one should believe that he or she was the owner of the temples". He said
"The ancient temples were not the individual property of anyone, though one could be the trustee or care taker of such temples"
He said that Deputy Commissioner, Kullu received a letter recently in which a person had claimed himself as the proprietor of the Raghunath temple. This clearly indicates that whosoever had written such a letter, earlier used to claim himself as Kardar but now the letter had clarified all facts that the one who had written such a letter was claiming himself to be the proprietor.
The Chief Minister said that the government did not want to become the proprietor of the Raghunath temple but there should be proper upkeep of the temples and the funds so generated by the formation of Trust be used for developing the temples.
He also released the Kullu Dussehra souvenir on the occasion and distributed laptops to the meritorious students under the 'Rajeev Gandhi Digital Yojna' besides other prizes.