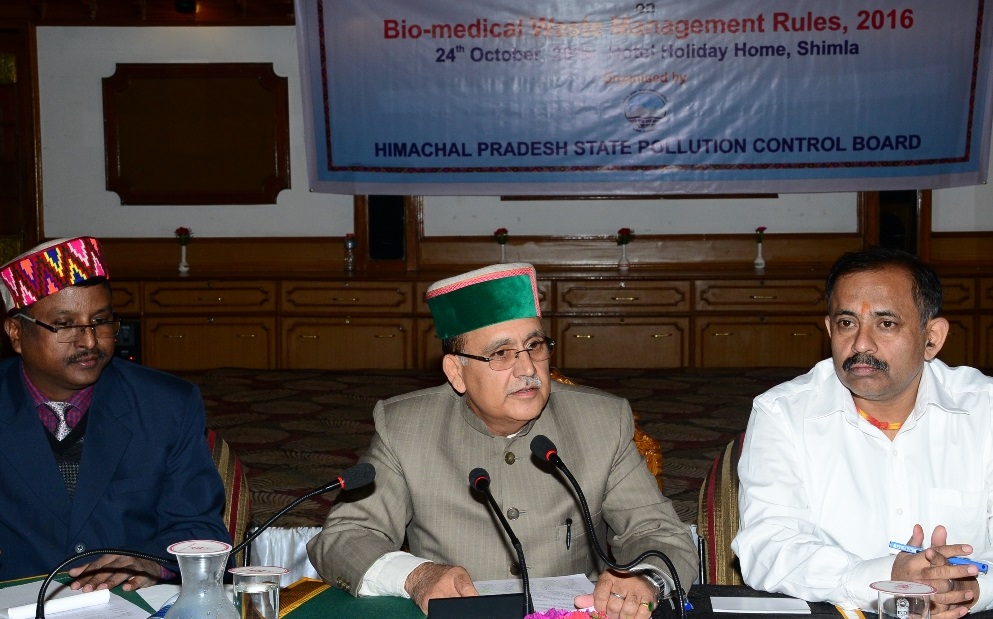 Shimla: HP State Pollution Control Board informed the State Government had promulgated and implemented new Bio-Medical Waste Rules, 2016 from March this year envisaged on simplified procedure of bio waste disposal.
Chairman HP State Pollution Control Board Kuldeep Singh Pathania, speaking at introductory workshop to sensitize the stakeholders about Bio Medical Waste Management organized by HP State Pollution Control Board, today,emphasized the need for strict implementation of new regulations on bio medical waste management and pointed out that these rules were comprehensive and clearly define the role of health care institutions, waste treatment facility operators, local authority, State Government and Pollution Control Board. He asserted that new features of the Regulation especially Bar Code System for bags and containers containing bio medical waste is expected to eliminate pilferage and restrict the entry of waste in the illegal recycling market and will improve overall management of bio-medical waste.
He said that Pollution as a whole is a most sensitive subject of the era and everyone was concerned about pollution of every kind. The State Government was doing concerted efforts in mitigating various issues related to pollution.
Pathania said presently 764 hospitals of the State were covered under the ambit of bio-medical waste Rules, 1998 and the State Board had authorized two common bio-medical waste disposal facilities at Kullu and Solan and three captive incineration facilities in different parts of the State, added he. He said during last three years, the health care institutions covered under ambit of bio medical waste Rules had increased from 718 to 764, so was the corresponding waste generation from 1.47 to 2.05 tonne per day.
He said that India was facing a great challenge in mitigating with the problem of disposal of wastes particularly bio-medical waste besides e-waste, a new challenge was posing a threat on environmental health. He said regulations, laws and methods we adopt in disposal of waste of all kind cannot give fruitful results unless we join hands together and at the same time very stringent regulations were also required and implemented. He said industries were not the only sector doing pollution, they are just 25 percent.
Pathania informed that Ministry of Environment, Forests and Climate Change, GoI had re-visited the entire spectrum of waste Rules and revised the Regulations for management of other waste categories such as Municipal waste, Plastic Waste, E-Waste, Hazardous Waste, Construction and Demolition Waste as well. He said these new regulatory frameworks would transform the approach to manage not only the bio-medical waste but also other categories of waste and make a big difference in securing regulatory compliances.
Principal Secretary, Environment, Science & Technology Tarun Kapoor expressed the need for allocation of adequate funds to the Health Department for proper management of bio-medical waste and strengthening of State Pollution Control Board as a prescribed authority for implementation of these Rules in Himachal Pradesh.
Member Secretary of the State Board, Dr. Sanjay Sood emphasized on the need to the health care institutions to set up on-site pre –treatment facility for liquid waste in the manner prescribed by the WHO and meet the discharge standards as prescribed under the Regulation. He said the use of plastic bags, gloves and blood bags is to be phased out within two years by the health institutions.
He said that the waste generated from medical activities was hazardous, toxic and even lethal. He informed blood camps were now also under the ambit of new regulations and need to be taken care adding that deep burial was allowed in very remote or inaccessible places only.