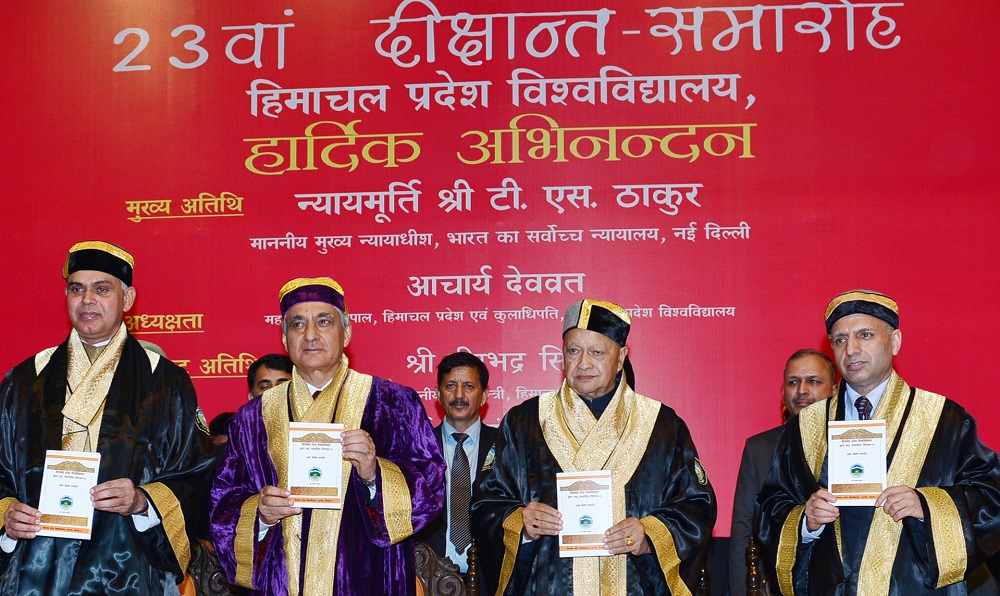 Shimla: Himachal Pradesh University (HPU) celebrated its 23rd convocation today. Chief Justice of India Justice TS Thakur was the Chief Guest and Governor Himachal Pradesh Acharya Devrat presided over the sacred ceremony.
Total 332 meritorious students of different academic fields were awarded with Doctoral, Master Degrees, Certificates of Honour and Gold Medals.
Chief Justice of India congratulated the students for excelling in academics and who had the honour of being decorated with degrees and Gold medals.
Governor Acharya Devvrat, in his address, said the main aim of education was to be good human being. He stressed upon the degree holders and medal winners to work more dedicatedly and serve the society with missionary zeal.
Acharya Devvrat said that degrees from higher educational institutions should not be mere formalities but youth should serve the society in a real sense. He said that there was a need to change the mindset of the people so that girls could get proper respect and honour.
Chief Minister Virbhadra Singh said that he was happy to see that the girls had outnumbered boys in the convocation ceremony for maintaining high standard in academics and receiving Gold medals and degrees. He hoped that the University would regularly organize its convocation ceremony, as from last many years, this practice was almost abandoned.
The Chief Minister asserted that the capacity to create, organize and apply knowledge was the most important trait of every successful person today in any and every profession.
He exhorted the students to prosper and make very best use of their future with a smile on their lips and springs in their feet. They should carry their traditions, customs and culture along, as these were the essentialities and mark of identification of the background of any individual. He also said that the love for the nation was greatest wealth and one must keep this in mind and not get lured by the glamour and the material world. He also urged for taking care of the less fortunate in the society and be almost modest and humble to the poor and the needy.
Chief Justice of HP High Court, Justice Mansoor Ahmed Mir said that education must enable man to become more efficient, to achieve the legitimate goal in life and must train one for quick, resolute and effective thinking. He said that the educated people should think logically and scientifically, which majority of educated class was not doing.
Vice-Chancellor, Himachal Pradesh University, Prof. A.D.N. Bajpai welcomed the CJI, Chief Minister and other distinguished guests on the occasion.
Earlier, Justice, TS Thakur was conferred upon with degree of Doctor of Laws by the Governor besides, Justice Bhawani Singh (Retd) was also conferrd upon with degree of Doctorate of Philosophy, 'Honoris Causa'