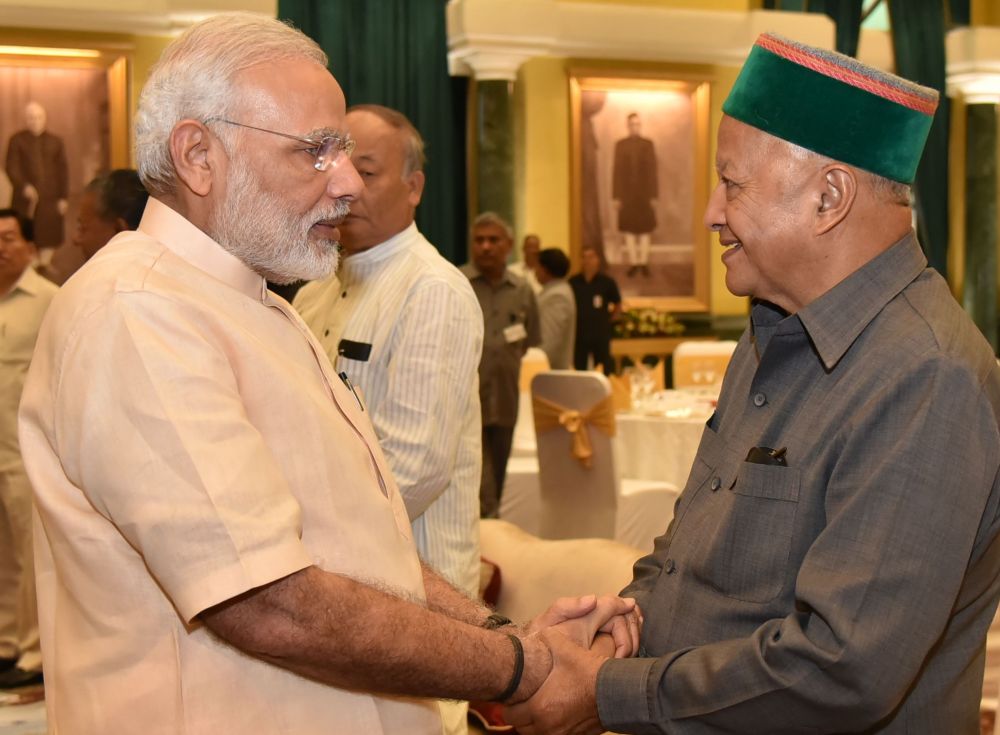 New Delhi: Himachal Pradesh Government strongly advocated grant of "Green Bonus" to hill states in lieu of environmental services being provided by these States on regular basis as an opportunity cost in terms of the area not available for other economic activities.
Chief Minister Virbhadra Singh, while participating in the Inter-State Council meeting in New Delhi, today, said it'll be a big incentive to states as well as a right step towards environment protection and sustainable development.
The Chief Minister also raised issue of "Special Products" category for apple crop as safeguard mechanism to increase import tariff in event of surge in import of apple. He said apple was mainstay of over two lakh families in the State besides a major source of livelihood to farmers, of Jammu and Kashmir and Uttrakhand.
He stressed the need for improvement in railway and road network in the State owing to proximity with International border having much improved infrastructure on the other side of the border. He also urged to subsidize the helicopter services in the State on the pattern of the North-Eastern states, so that all parts of the State remained connected throughout the year.
Virbhadra Singh said 67 percent area of the State was under forest cover and it was Himachal Pradesh was the first state in the country to ban green felling. Forest Conservation Act was being implemented in letter and spirit in order to save to environment. He demanded the Union Govt. to relax stringent forest laws and procedures for implementation of developmental schemes and activities for socio-economic upliftment of people of the State. He said
"Unutilized waste lands up to 5 hectares may be permitted for creating infrastructure for essential economic activities. Under Forest Conservation Act, State govt. may be empowered to grant approvals for diversion of forest land upto an area of 5 hectare, for critical infrastructure projects which get delayed, owing to cumbersome processes of Ministry at Centre"
He also requested to revive the scheme of modernization of police forces for capacity building to meet emerging challenges in internal security.
Virbhadra Singh informed the forum that 98% population of the State had already been enrolled under Aadhar Scheme, and soon it will be 100%. Aadhar linkage has been, provided to PDS, LPG subsidy, Pension Schemes and Students Scholarships amongst others. Himachal Pradesh was the first State to start Direct Benefit Transfer Scheme in MGNREGA and Scholarship programme. DBT was being implemented in as many as 34 different schemes.
He also raised the issue of unutilized land allotted to Public Sector Power Projects in the State and demanded to transfer that the State, at the earliest.
Singh said the forum was an opportunity to evolve solutions of common problems involving states thereby strengthening co-operative federalism in the Country.