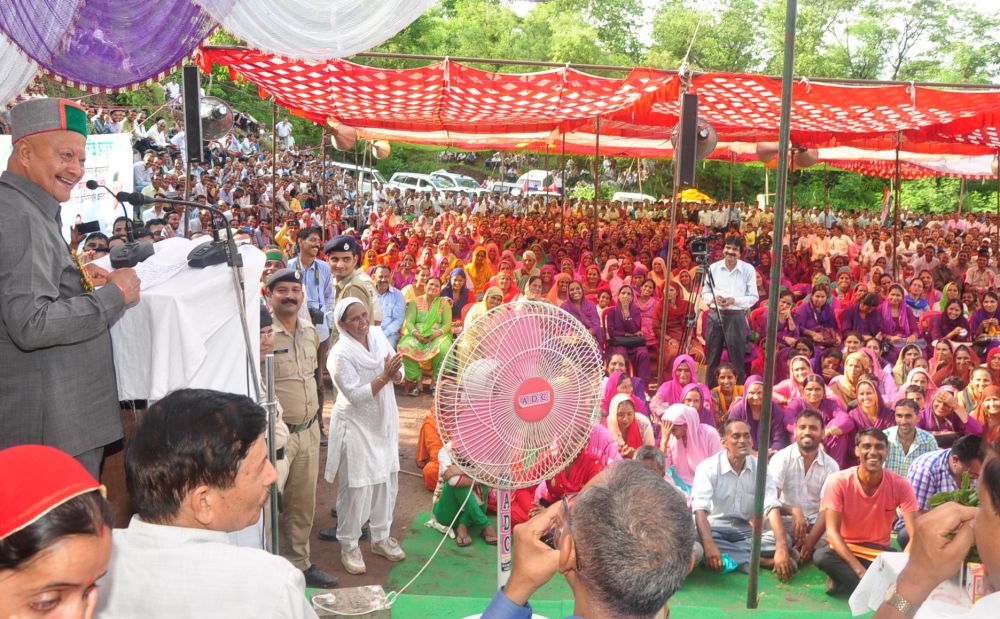 Himachal Pradesh Chief Minister Virbhadra Singh assured to settle the pending cases of Bhakra oustees on priority.
The Chief Minister, while addressing a public meeting at Jhanduta in district Bilaspur today, stated the Bhakra oustees who were rendered homeless have been provided land/ plots in the past, however, the cases regarding settlement of left out oustees at Kotdhar, trapped in litigation in respect of their titles, has been taken up again with the government of India and would soon be settled under the mini settlement.
Earlier, the Chief Minister inaugurated the Primary Health Centre (PHC), at Gherwin constructed with an outlay of Rs 45.72 lakhs, block of Government Degree College at Jhanduta constructed with the cost of Rs 5.30 crore. He also dedicated the Community Health Centre at Jhanduta constructed with an outlay of Rs 1.36 crore. He announced opening the Tehsil Welfare office and sub-tehsil office Kalol and inaugurated the science block of Government Senior Secondary, Jhanduta. He also planted a sapling on occasion of 67th State Level Van Mahotsav at Samoh near Gherwin.
Virbhadra Singh also announced inauguration of newly constructed Ayurvedic dispensary building at Chhuman, to make functional the newly upgraded Government Senior Secondary School (GSSS) Behna-Jatta in GP Behna-Jatta, GSSS Bala in GP Brahmana and GSSS Dhani in GP Dhani. He also announced starting of science classes in GSSS Jaddu and Naklehra Schools and laying foundation stone of administrative block of GSSS Nekhlera, opening of newly upgraded Community Health Centre in Talai in Nagar Panchayat Talai and foundation stone of Resource Centre in BDO office Jhandutta.