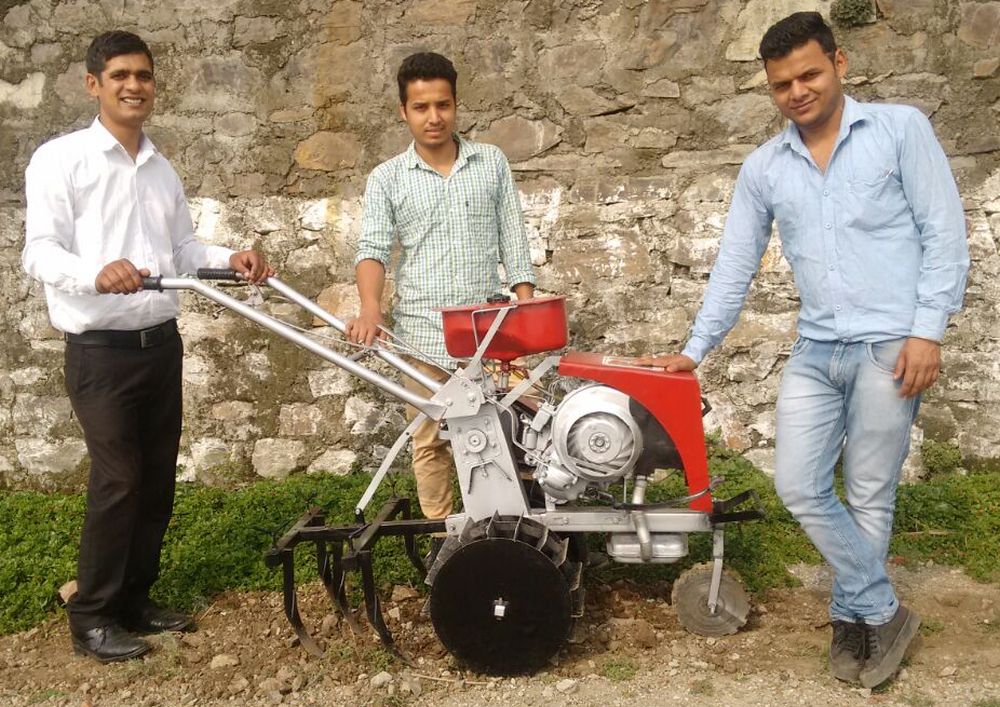 Three engineering students from Bahra University Shimla have built a Mini Hand Tractor that is lightweight and highly portable as compared to its industrial counterparts. The project which is developed by Er. Janak Bhardwaj of Nagwain, Mandi, Vinit Thakur of Sarkaghat, Mandi and Rakesh Sharma of Barmana, Bilaspur purely out of hobby and passion is a 60 kg mini tractor powered by a 145cc two stroke scooter engine.
The engine that runs on petrol is powerful enough to produce 7.5 bhp of horsepower and 1.1 kgm of torque to turn soil upside down in plain as well as hilly terrains. The tractor is loaded with four gears to deal with extremely rough terrains. Seven litter fuel tank keeps the tractor well on the move for more than two hours. The best part is one can switch to kerosene fuel after ignition if petrol weighs a little heavy on the owner's pocket.
Proving mettle of their prowess in the field of automobile engineering, the brilliant students are already aiming high with being an important part of Indian automobile revolution by operating a makeshift garage at Kiaribangla near Waknaghat and offering repair and maintenance services to all types of vehicles while attending the university.
Apart from being an active catalyst in setting up automobile labs (Internal Combustion Engine lab) at various private university campuses in and around Shimla, Janak Bhardwaj has developed a five-seater bike in 2011, which received great acknowledgements and compliments from auto enthusiasts across the state.
Janak said that he wanted to start an automobile company with strong R&D facility to contribute to the society by imparting automobile technology knowledge to poor students who can't afford to pay high fees of engineering institutions.
He admitted that unlike developed nations of west, India lacks strong R&D facilities, which is why our nation is not able do any remarkable breakthrough in automobile industry.
Apart from winning many accolades in the university, Janak Bhardwaj has also won national award for automobile inventions by the Doordashan (DD) in 2015.