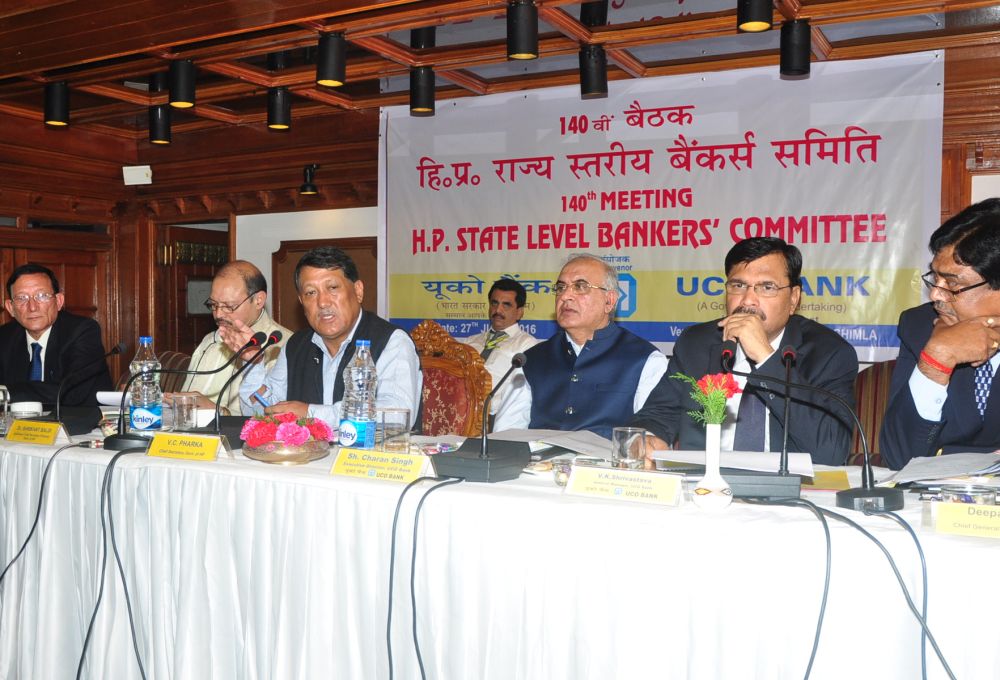 Shimla: Chief Secretary VC Pharka asked the banks to encourage liberal loaning in agriculture, horticulture and allied activities to the farmers of the state.
Pharka, while presiding over the 140th quarterly review meeting of State level Banker's Committee, today, said that under Annual Credit Plan-2016-17, a target of fresh credit disbursement of Rs. 18,213 crore by various banks in the state had been fixed.
He said that agriculture and horticulture were the mainstay of rural people in Himachal and emphasised on further strengthening these sectors.
The Chief Secretary informed the World Bank has approved ambitious Horticulture Modernization Project for Rs.1143 crore, implementation of which would be started soon.
Reviewing the performance of banking sector, Pharka informed that banks had disbursed loans of Rs. 14,043 crore during 2015-16 thus achieving 92 percent. He further added that the Banks have planned to disburse Rs.18213 crores in the current financial year with an increase of nearly 19 percent over the previous year.
While appreciating the progress of Jan Dhan Yojna and Social Security schemes, VC Pharka said that more than 10 lakh people had been covered under these schemes till date. Though he expressed concern over the declining CD ratio in the State, and said that it would affect the development of the State.
He said that it was the need of the hour to work in coordination with each other. He asked the private sector banks for providing liberal loans to the people in general for income generating activities and also for the development of the State, instead of focusing on deposit based banking.
Charan Singh, Executive Director of UCO Bank said that special attention was being given by banks for financing the Micro and small Entrepreneurs under Pradhan Mantri Mudra Yojna and Stand Up India Scheme.
General Manager, UCO Bank V.K Shrivastava stressed upon massive awareness and financial literacy campaign to expand outreach of banking services.
Regional Director, RBI IS Negi directed the banks to open branches in unbanking villages in the State and strengthening of BCA mode of providing banking services in remote areas.
Additional Chief Secretary, Dr. Srikant Baldi, Senior executives, officials of various State Government departments, boards, Corporation and Banks were also present in the meeting.