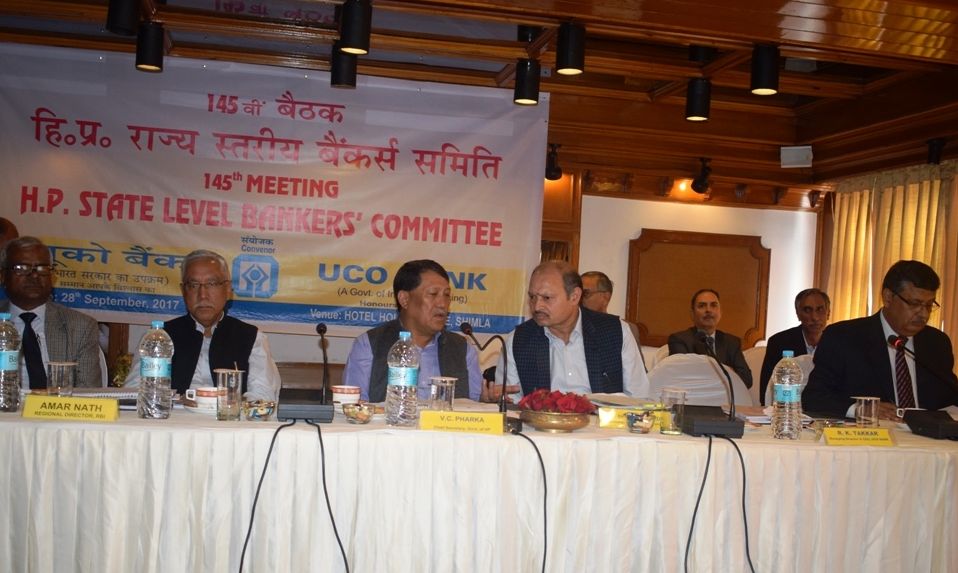 Shimla: Chief Secretary VC Pharka raises concern over regular decline in Credit-Deposit (CD) ratio in Himachal Pradesh.
The Chief Secretary, in the 145th meeting of State level Bankers Committee today, asked banks for focusing on credit in both priority and non-priority sectors. He emphasised on liberal loaning in agriculture and horticulture sectors.
The state has registered total credit of Rs. 44,709 lakh as on 30th June, 2017 and deposits were Rs. 100643 lakh, which calculates the overall CD Ratio at 44.87 percent.
Under financial inclusion campaign, banks claimed of covering all households in the State with at least one saving account. Total 10.16 lakh basic saving accounts under Pradhan Mantri Jan Dhan Yojna were functional and banks had issued 7,72,627 Rupay Cards upto June, 2017 and total 8,83,992 PMJDY accounts were seeded with Aadhar number in the State and coverage was 87 percent. Banks were directed to ensure cent-percent seeding of account numbers with Aadhar by the end of this year.
The state has 38,872 subscribers under Atal Pension Yojna (APY). Under the scheme, the subscriber would receive a minimum of guaranteed monthly pension of Rs. 1000 to Rs. 5000 at the age of 60 years depending upon the contribution.
Pharka said the growth fundamental were strong as the per capita income of the State has gone up to Rs. 1,47,277 which is Rs. 93,293 at the national level. The State Government was emphasising on further expansion in various sectors like tourism, food processing, micro, small and medium industries and information technology for encouraging development.
He expressed concern over the pending insurance claims under social security schemes. He directed that time period should be fixed to clear such tiny nature of claims which could be a great relief to the poor.
The Chief Secretary said that the State Government was proactively encouraging use of digital platform for making payment in the bank accounts thereby creating conducive environment for cashless societies. Government was encouraging payment under the Direct benefit transfer scheme through the Aadhhar Enabled payment bridge to promote digital transactions. He urged the banks to take up massive awareness campaign for promoting cash-less payments.
It was revealed that 'Mudra promotion' awareness camp will be organised at Shimla on 4th October, 2017.
Additional Chief Secretary Finance, Dr. Shrikant Baldi stressed the need to achieve advances para metres for women and weekar section of the society. He asked the banks for massive financial awareness campaign so that maximum people could get benefit of government sponsored and banking schemes. He asked the KCC Bank to pay added attention in issuing Rupay Cards.
RK Takkar, Managing Director UCO Bank, informed that total banking business in the State had crossed Rs. 1.35 lakh crore. He informed that State has total branch network of 2130 branches and 2063 ATMs. He said banks were extending its services in the rural areas through Bank Mitras.
Regional Director, Reserve Bank of India Amar Nath asked the bank to pay thrust on financial inclusion campaign at ground level so that outreach of banking services could be extended to the last mile.