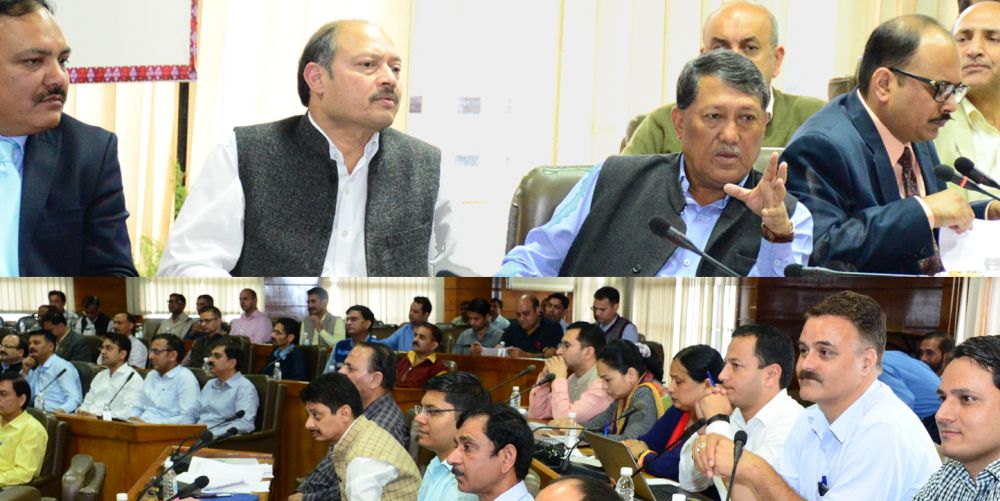 Shimla: Chief Secretary VC Pharka today launched the World Bank aided 'H.P. Public Financial Management & Capacity Building Programme'. The World Bank has sanctioned a loan of $36 million, whereas 20 percent would be borne by the State Government thereby making the project cost to Rs. 45 million USD.
The Financial Management & Capacity Building Programme would be implemented in 2017 – 2022. The Himachal Pradesh is the first State in the country to get this project as the State has the good linkage with World Bank which has appreciated various indicators of the state.
The Chief Secretary extended his gratitude to the World Bank Team for sanctioning this project.
Emphasizing on a need of good financial management, proper audit and utilization of funds, Pharka said all Departments should be linked to e-procurement system which has already been started in Irrigation & Public Health and Public Works Departments. He said the problem of connectivity still remains in the remote areas of the State and the Information & Technology Department has put the efforts to sort out this problem by improving and expanding HIMSWAN across the State.
Additional Chief Secretary (Finance) Dr. Shrikant Baldi assured to take effective measures would be adopted for implementation of the project under the technical guidance of World Bank. All the DDOs would be connected in the chain and imparted training. He said the project would go a long way in proper management of public finances. He informed that public financial rules have been formed in the State and now there is a need to focus on proper implementation of this programme. He said all treasuries in the State were already on-line.
Principal Accountant General of Himachal Pradesh Kulwant Singh, informed that at present data was being received both manual and electronic modes and intended to automate this process to go paperless. He said pension record from 1946 has been fully digitized.
World Bank Team Leader Tarun Mathur complimented the State for achieving better indicators in implementation of various projects, programmes and policies. He expressed happiness that the State has given thrust on the major issues NIC and IT development.
Additional Chief Secretary Tarun Kapoor, Principal Secretary Jagdish Sharma, Special Secretary (Finance) D.D. Sharma, Sr. Technical Director NIC Shri Ajay Chahal, Officers of Excise & Taxation, Treasuries & Accounts, IPH, PWD, IT, NIC were present on the occasion.