Preparing for the monsoon, the Himachal Pradesh Government has released Rs. 63.23 crore for taking preventive measures to deputy commissioners and concerned departments from State Disaster Response Fund (SDRF) and National Disaster Response Fund (NDRF).
Chief Secretary VC Pharka, in a meeting with top officers, said Rs. 35 crore have been released to the departments including Rs. 25 crore to PWD, rupees five crore to I&PH, rupees two crore to electricity board, one and a half crore each to agriculture and horticulture departments.
He said Rs. 28.23 crore have been released to Deputy Commissioners for immediate relief, ex-gratia, drinking water and assistance to urban local bodies.
The Chief Secretary directed all stakeholder departments of the state government to undertake the process of pre-monsoon de-siltation, clearing of water channels, removal of blockages and encroachments from drainage systems and flood plains.
Pharka directed the Deputy Commissioners to start mass awareness amongst tourists, trekkers and public for taking precautionary measures. He directed the DC's for ensuring better coordination amongst the concerned departments to mitigate the effects of natural calamities and proper maintenance of essential services.
He said DCs must ensure the evacuation of establishments, labour colonies and settlements along-with the riverbed in low lying areas and hydro power project authorities should ensure that no water was released from reservoirs without warning. They should ensure proper dissemination of alerts at least 24 hrs before releasing of the water. He advised the DCs to create WhatsApp group for better coordination and flow of information to the concerned stakeholders.
The telecom service providers were asked to ensure flash SMS messages in their mobile phones at the time of tourist's entry in the state, containing advisories regarding natural and human induced hazards.
Pharka directed Health department to conduct special drive for prevention of epidemics, water borne diseases and taking corrective measures immediately.
Additional Chief Secretary, revenue and Disaster Management Tarun Shridhar stressed for better response, mapping and updation of consolidated resource inventory like verification of stores including identification of safe evacuation places and local flood rescuers is critical.
Special Secretary, Revenue and Disaster Management D.D. Sharma said over the past many years, the intensity and frequency of riverside flooding has shown increasing trend and losses to the human lives, livestock and infrastructure can be minimized by taking precautionary measures and adequate preparedness. He said efforts were being made to minimize vulnerability to floods and loss of lives, livelihood systems, property and damages to infrastructure and public utilities.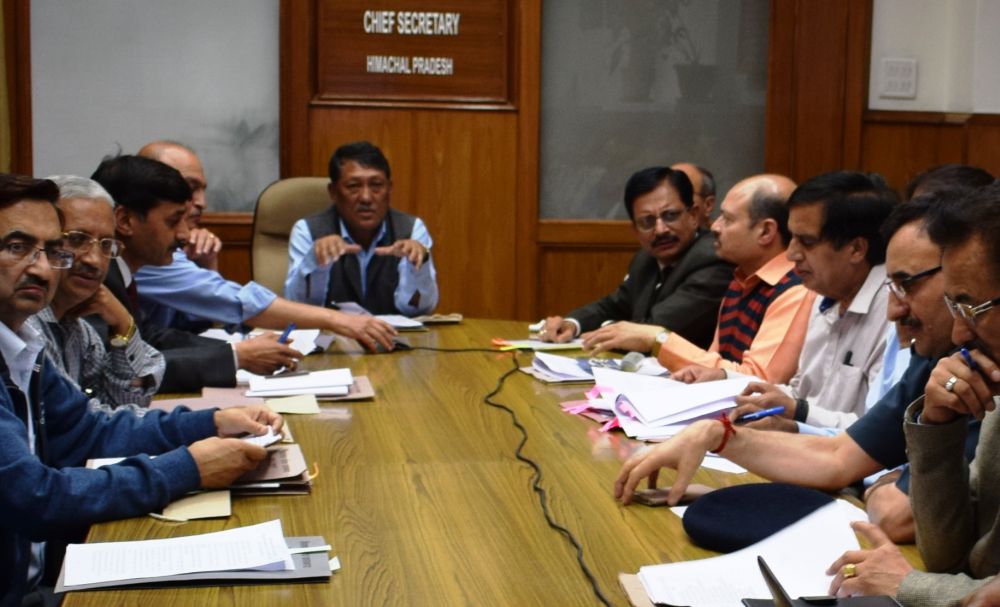 Director General of Police Sanjay Kumar, Additional Chief Secretaries Dr. Shrikant Baldi, Arvind Mehta, representatives of ITBP, SJVNL, BBMB were also present in the meeting, while Deputy Commissioners participated through video conference.