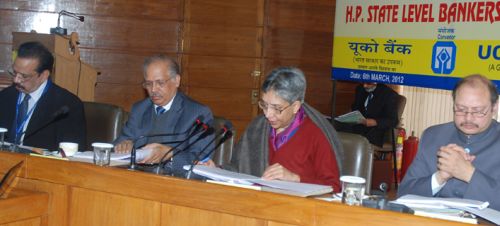 Chief Secretary Rajwant Sandhu urged the bankers to focus upon Agriculture, Horticulture, Hydel Power, Tourism and Micro and Small Services Enterprises Sectors as they were emerging as a powerful mechanism for improved economic growth and overall development of the State. She was speaking in 123rd State-Level Bankers Committee meeting here today.
Sandhu said that Banks had disbursed fresh credit to the tune of Rs. 7707 crore against the target of Rs. 5434 crore upto December, 2011. She said that banks had sanctioned loans to 246331 beneficiaries under various activities in the State and surpassed the targets by 134 percent. She urged the bankers to intensify efforts to improve the performance under ACP in Bilaspur, Kinnaur, Kullu and Solan districts.
She said that State had already achieved the status of 100 percent financial inclusion and banks were making efforts to achieve credit inclusion for about 24 percent of the remaining households by providing cash credit facilities in the shape of Kisan Credit Cards, General Credit Cards schemes specially meant for micro finance. She urged the Bankers to prepare road map for providing banking services in all 532 villages having population 1000+ upto September, 2012. She said that banks have timely implemented the financial inclusion Plan for all 44 villages having population above 2000 and hoped that remaining four villages would be covered by March, 2012.
S. Chandra Shekharan, Executive Director, UCO Bank while presiding over the meeting, said that deposits with Banks had increased by 15 percent over previous year reaching to Rs. 44142 crore and advances grown by 10 percent, reaching to the level of Rs. 20634 crore. He urged the banks to implement the Financial Inclusion Plan (FIP) as well as Electronic Benefit Transfer Scheme in accordance with the operational guidelines issued by RBI and expedite all the initiatives in the field. B. Venkat Ramana, General Manager (Field), UCO Bank welcomed the Chief Secretary.
Dr. Shrikant Baldi, Principal Secretary, Finance also gave valuable suggestions for rapid economic growth of the State. Deepak Sanan, Principal Secretary, Revenue, SKBS Negi, Principal Secretary, Rural Development, R. Gurumurthy, General Manager, RBI, Naresh Gupta, Chief General Manager NABARD, P.M. Bhanot, Deputy General Manager, UCO Bank also attended the meeting.