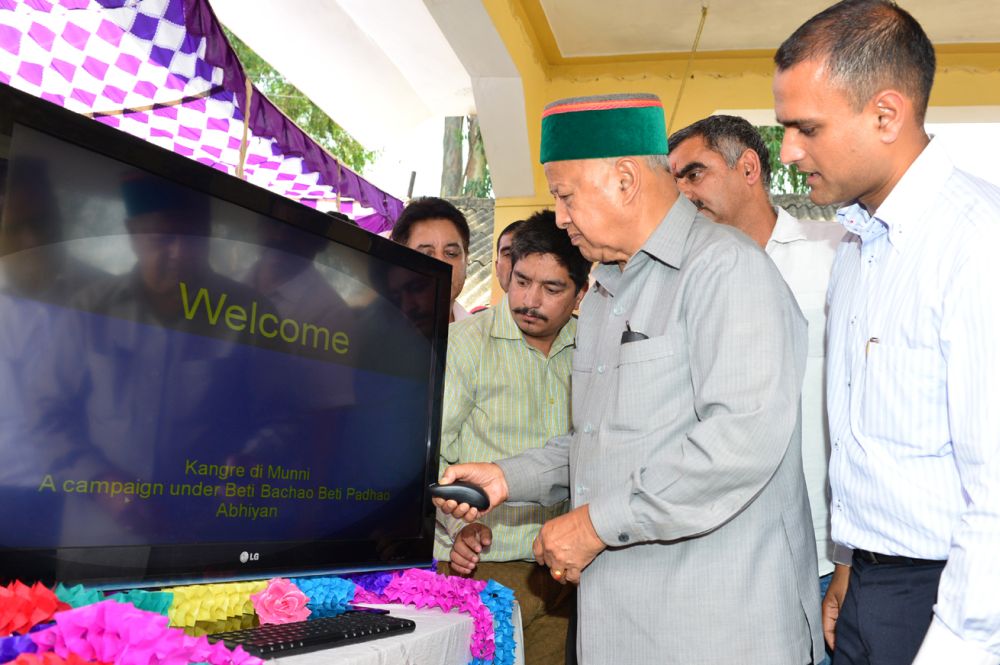 Jawalamukhi: Chief Minister Virbhadra Singh launched 'Kangre Di Munni', an initiative of district administration and a step towards 'Beti Bachao-Beti Padao' from the Campus of Government Senior Secondary Schools (Girls), Jawalamukhi in district Kangra today.
Lauding the efforts of the district administration, the Chief Minister said that such an initiative would help save girl child and would go a long way in improving the girl sex ratio. He said that those violating the Pre-Natal Diagnostic (PNDT) Act, would be punished and a strict monitoring would be done of the private clinics.
The Chief Minister said that even the parents who were found to be involved in sex determination and resorting to abortion would be held liable for harsh punishment. Though the sex ratio in the State was quite good, yet there were few districts as Una, Hamirpur and Kangra, where the sex ratio was low. He said that an awareness campaigns needs to launched all over the state, as the girl child also have equal right to live and they should be well taught and brought up.
He said that only those societies prosper, who respect the women and work for their empowerment.
The Chief Minister launched a logo, a caller tune, a Facebook page and a special brochure on the girl child on the occasion. He also celebrated the birthday of girl child who were born in the month of May and present on the occasion by slicing the cake and congratulating them.
Deputy Commissioner Kangra Ritesh Chauhan, while briefing about the campaign said that after going through the figures of census 2011, it was a cause of worry to learn that the sex ratio of girl child between 0 to 6 was declining fast, as it was 876/1000 in the district.
He said the district administration had involved Aanganwari Kendras and Mahila Mandals to make scheme a success. A new initiative had also been taken to celebrate the birth of new born girl child by organizing traditional Kangri Feast (Dham) named 'Muniya Di Dham'.