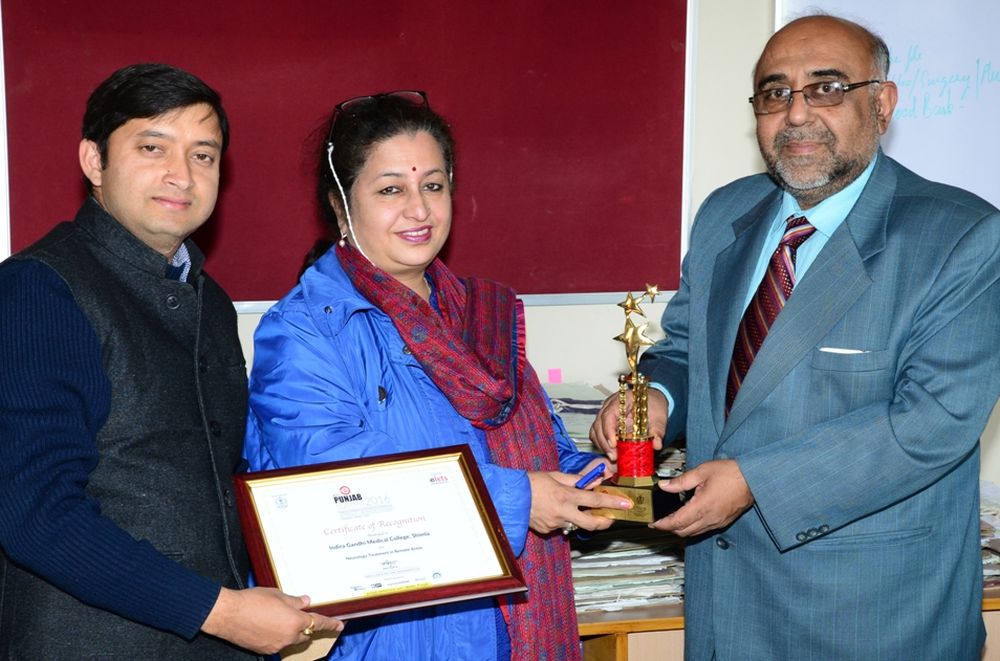 Chandigarh: The Telestroke project of Himachal Pradesh was awarded as best e-health initiative in National Conference on Innovations in Governance at the elets PUNJAB SUMMIT 2016 at Chandigarh.
Governor of Punjab and Haryana Kaptan Singh Solanki presented award to Dr Purnima Chauhan, Secretary Administrative reforms and Dr Sudhir Sharma, Head, Dept. of Neurology IGMC, Shimla.
Telestroke is the brainchild of Stroke Specialist Prof. M.V. Padma from All India Institute of Medical Sciences, New Delhi developed on the initiative of Additional Chief Secretary Health Vineet Chaudhary. Telestroke innovation lies in the intelligent convergence of internet and mobile telephony for a swift medical response at the nearest health facility within the 4.5 hour window after stroke happens. Since its inception in July 2014 Telestroke has saved more than 100 stroke patients up to January 2016 through 17 health centers in Himachal Pradesh. These health centers must have fundamental equipment like a CT scan, ECG and blood sugar testing.
"HP Telestroke" android application has also been launched. This application alerts people about stroke symptoms; calls 108 national ambulance and pinpoints the nearest equipped stroke treatment center so that timely treatment is rendered. This app can be downloaded at google playstore.
Stroke has emerged as a second biggest killer of mankind world over after cardiac diseases. According to World Stroke Association one out of six persons is expected to suffer from stroke globally and every six seconds a person gets a stroke. In India more people die of stroke than infectious diseases like tuberculosis. Stroke prevalence in India ranges from 84 to 424 per 100,000.It is estimated that H.P. should have 15,000 to 20,000 patients of stroke and every year 5000 – 10,000 new patients suffer stroke. This number is bound to increase with increased life expectancy and aging of population. After a stroke about 50% patients do not survive beyond 6 months and 25% become dependent for life. So not only mortality but morbidity due to stroke is also overwhelming.
Timely treatment of stroke becomes difficult due to narrow time window, lack of neurologists and need for 24×7-investigation facility. Due to difficult terrain, the task becomes even more challenging in a state like HP, which has two tertiary care hospitals with four neurologists, two each in IGMC Shimla and Dr RPGMC Tanda hospital. So given the difficult terrain and just four neurologists, delivering timely stroke treatment seemed like a distant dream.
However in March 2014 under the guidance of Stroke Specialist Prof. M.V. Padma from All India Institute of Medical Sciences, New Delhi and on the initiative of Additional Chief Secretary Health Himachal Pradesh Telestroke Project was envisaged. All the government hospitals with CT-Scan facility were roped in as 17 primary stroke centres.
All the four neurologists were made available on phone 24×7 and whenever any ischemic stroke came in window period, they were to be contacted. It was decided to use social networking sites like "Whatsapp for transmitting CT-scan images to neurologists for consultation. Without any extra infrastructure requirement or any new manpower the project was finally launched in May-June 2014.
Within one month the first ever patient of acute ischemic stroke was successfully treated at a district hospital Nahan without on-site presence of a neurologist. This first case proved the feasibility of Telestroke project.