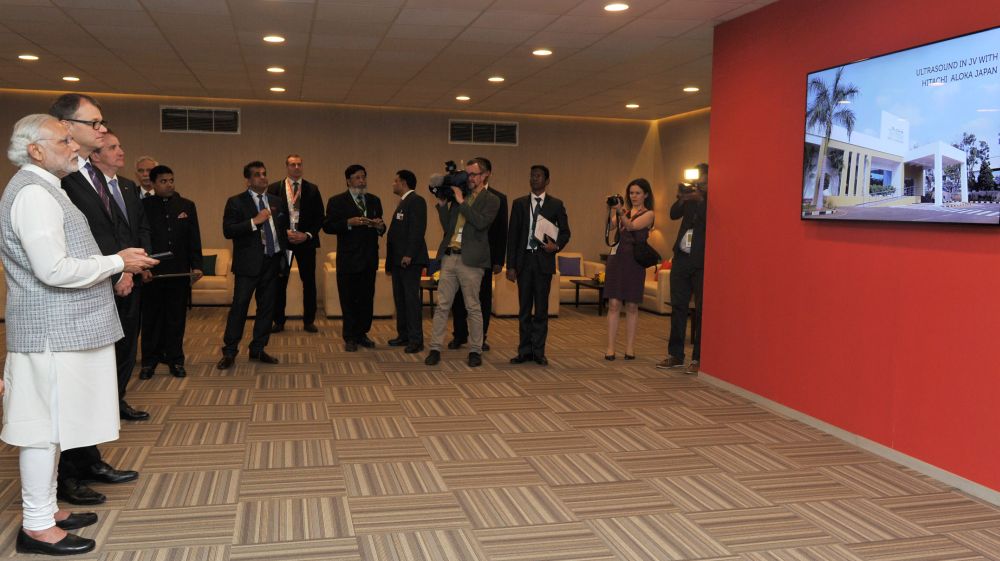 Mumbai: Prime Minister Narender Modi visited Himachal Pavilion in Mumbai during the launching of 'Make in India' week.
The Himachal Pavilion was set up in collaboration with Confederation of Indian Industries CII, showcased the various potentials of the state including achievements and incentives being offered in Tourism, Industries, Hydel sector besides, Pharma industry etc.
The Prime Minister appreciated the efforts of the State government and assured that the centre will provide all possible help for the growth of the industrial sector in the State.
Industry Minister Mukesh Agnihotri welcomed the Prime Minister and briefed the Industrial growth in the State and the incentives being provided to the entrepreneurs by the State government. The entrepreneurs evinced keen interest to invest in the state in tourism, Hydel and industrial sectors.
During the meeting the Ambassador of the Czech Republic along with its team of industrialists interacted with the Industry Minister of Himachal Pradesh and wished to invest in the area of Hydro-power, Steel and Automobile.
In a joint meeting with the Polish Ambassador, Leszek Brenda and Poland industrialists evinced keen interest to invest in the State in Infra, Food Processing and Tourism Sector, besides High Commissioner of Cyprus, Mr. Demetrios was keen to invest in Mountaineering and Rope-way Projects.
The Minister said that the SKP group offered to invest in Bio-Tech sector, and Sun Juice Manufacturers also evinced keen interest in setting up Juice Units in the State with an investment of around Rs 100 crore.
Agnihotri said that government of Himachal Pradesh providing various incentives to the industrial houses for setting up their units in the State. He extended invitation to the entrepreneurs who wish to invest in industrial and other sectors in the State and assured all possible assistance for setting up of the Units. He also detailed about the various incentives provided to the investors by the State government.