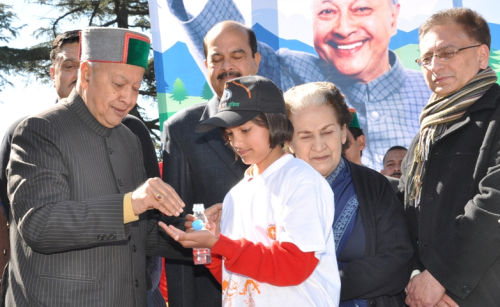 Chief Minister Virbhadra Singh launched Weekly Iron and Folic Acid Supplementation Programme (WIFS) aimed to cover all adolescent girls and boys studying in sixth to 12th class in Government Schools, from Shimla today. The aim of this programme is to make school children free from anaemia.
Speaking on the occasion, Chief Minister said that providing best health care to all citizens was for most priority of the Government and a large numbers of initiatives were being taken in health sector. 'Solid Bano India' or WIFS was one such initiative which would cover approximately seven lakh students of the Government schools who would be provided Iron and Folic Acid tablets once a week along with their teachers and helpers. He said that Nodal Teacher in each school had been trained to screen for moderate or severe anaemia and refer the affective children to nearest Primary Health Centre for treatment.
Virbhadra Singh said that anaemia was a major health problem in the State especially in women and children. He said that keeping in view the nutritional requirement, especially for iron this programme had been launched for students of both rural and urban areas of the State. He said that it will go a long way in strengthening the health of students.
Chief Minister also gave away prizes to the winners of various events.
Irrigation and Public Health Minister Vidya Stokes, Urban and Town & Country Development Minister Sudhir Sharma, Chairman, HP Cooperative Bank, Harsh Mahajan, Mayor, Sanjay Chauhan, Principal Secretary Health Ali Raza Rizvi, DC, Dinesh Malhotra, Mission Director, National Health Mission Shri Amitabh Awasthi, Director Health Dr. Kulbhushan Sood and other senior officers of the State Government was present on the occasion.