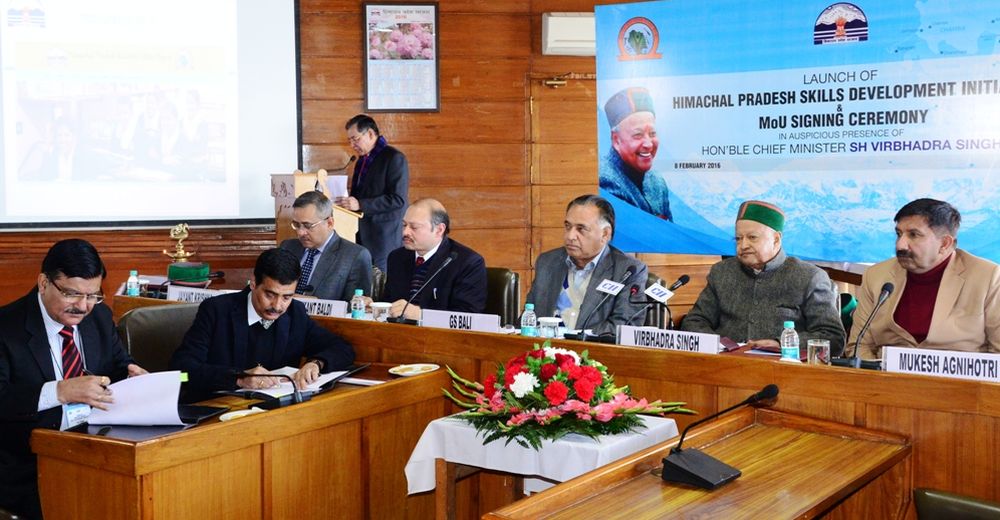 The Himachal Pradesh government signed record 17 Memorandum of Understandings (MoUs) in the field of skill development with various industrial organizations and Sector Skill Councils (SSCs) here today.
The MoUs were signed between Himachal Pradesh Kaushal Vikas Nigam (HPKVN) and 17 industrial organizations including three with National Skill Development Corporation (NSDC) in the presence of Chief Minister Virbhadra Singh. These SSCs represent more than 20 Central Ministries and 50 large Industry Associations which would partner HPKVN in demand based and quality driven skill development.
Technical Education Minister G.S. Bali, Industries Minister Mukesh Agnihotri, Rural Development and Panchayati Raj Minister Anil Sharma were also present on the MoUs signing ceremony.
The Chief Minister also launched the Himachal Pradesh Skill Development Initiative on this occasion which is aimed at increasing employment opportunities of the unemployed youth of the State both through wage employment and self-employment opportunities through appropriate skilling on a mission mode.
Speaking on the occasion, Virbhadra Singh said the signing of MoUs with different industrial organizations and SSC's would give an edge to the State on skill, assessment and placement issues. He said these SCCs had placed the demand for training of thousands of people from the State besides ensuring placement of the trained youth.
He said setting up of HPKVN was a major initiative of the State Government which would go a long way in providing an umbrella framework to improve coordination and convergence and reduce duplication across the skill development programmes being run by various departments.
Talking about the future plans of the State Government for skill based programmes and initiatives, the Chief Minister said priority would be given for strong engagement with industries association and SCCs to get demand information and identifying internship and placement opportunities. He said the State would notify its own skill development policy and new state-of-art Industrial Technical Institutes would be opened for imparting training in a group of inter-related trades.
Virbhadra Singh said the State Government was mulling to open Skill Development University in the State which would give fillip to skill development of the youth.
Chief Executive Officer of NSDC Jayant Krishna in his keynote address stressed the need for formal skilling and training for which the industrial sector would have to play bigger role. He said a target of skilling 50 crore people had been set by the Government of India in coming few years which was the largest initiative in the field of skill development across the globe.
Senior Director, FICCI Dr. Shobha Misra Ghosh in her address said that besides providing training, it was equally important that the trained people get equal opportunities of employment.
Earlier, Additional Chief Secretary, Finance Dr. Shrikant Baldi in his welcome address briefed about the initiatives of the State Government in the field of skill development and technical education.
Director, BoD, HP Kaushal Vikas Nigam Vikramaditya Singh, Managing Director, HPKVN Rajesh Sharma, Chairmen of CII and FICCI, CEOs and representatives of various industrial organizations and senior officers of Government were present on the occasion.