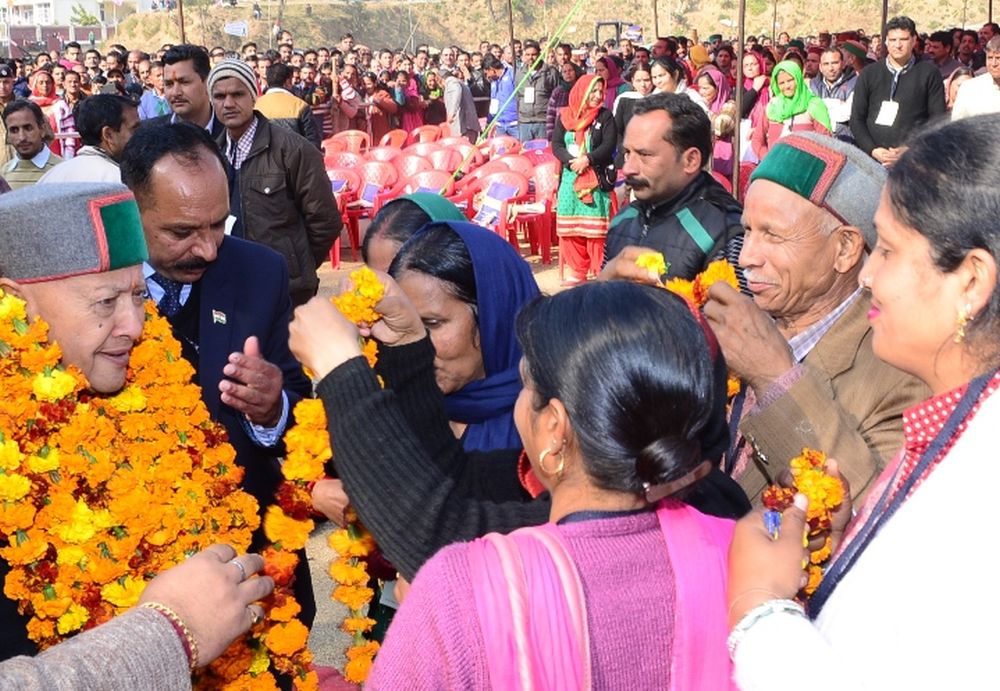 Dharamshala: Chief Minister Virbhadra Singh today administered oath of allegiance of affirmation in a third phase to the newly elected Pradhans and Up-Pradhans of Kangra, Una and Chamba districts except Pangi.
The Chief Minister congratulated elected representatives of PRI and urged them to work dedicatedly and committedly for the speedy development of their respective areas. He asked them to ensure delivery of benefits under different programmes of the Government to the targeted groups.
He said that Panchayats were the basic units of democracy and were responsible for overall development and ensuring welfare of the people at village level. He said that State Government was committed to realize the dream of Mahatma Gandhi by empowering the Panchayats. He assured the newly elected representatives of PRIs to provide all possible assistance and funds for development works.
The Chief Minister hoped that the young and energetic office bearers would work vigorously to serve the people with commitment. He asked them to provide transparent and good governance in their respective Panchayat. He said that the development was bound to take the real and desired shape with the proactive role of PRIs representatives.
Rural Development and Panchayati Raj Minister Anil Sharma welcomed and honoured the Chief Minister on the occasion. He said that all important schemes and major programmes were being implemented through PRIs. He said that Panchayats had been given administrative, executive and judicial powers. He urged them to lend their supportive hand in achieving targets of various schemes being implemented for the development of the Panchayats within the stipulated time.
Secretary, Panchayati Raj and Rural Development Onkar Sharma proposed vote of thanks.
Cabinet Ministers, CPSs, MLAs, Chairman and Vice-Chairman of various board and corporation, Deputy Commissioner, Kangra Ritesh Chauhan, senior officers of the State government and other prominent people were also present on the occasion.