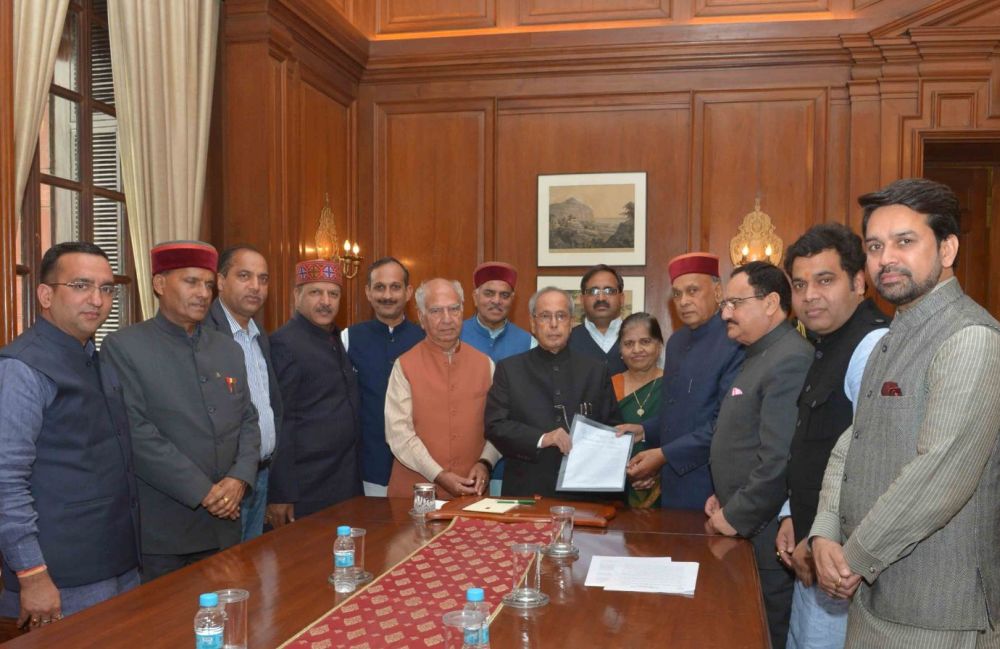 New Delhi: Demanding Himachal Chief Minister Virbhadra Singh removal, a delegation of BJP leaders from Himachal Pradesh called on President Pranab Mukherjee today and submitted a memorandum detailing and claiming of serious corruption charges against Singh.
Veteran BJP leader Shanta Kumar, leader of opposition Prem Kumar Dhumal, Union Minister JP Nadda, Anurag Thakur, Ram Swaroop Sharma, Virender Kashyap, Bimla Kashyap, Rajiv Bindal, Jai Ram Thakur, Satpal Satti, Shrikant Sharma, Pawan Rana and Randhir Sharma were part of the delegation.
Shanta Kumar, while interacting with reporters outside the Rashtrapati Bhavan, said the delegation sought the removal of Virbhadra because he has refused to resign on moral grounds even after facing serious charges of corruption. Kumar said
"Investigation is going on, and perhaps for the first time in the history of India, an incumbent chief minister's house was raided"
Shanta Kumar claimed the Chief Minister and his Congress party defending him, leaving the government and the administration in coma. The development of the state has come to standstill as prominent leaders of the state were busy fighting a war of succession among themselves, he further added.
However, the state congress has ridiculed the BJP memorandum and termed it an attempt to divert the attention of general public from its failure of playing the role of constructive opposition in the state.
State Congress Spokesperson Naresh Chauhan said that such tactics of the BJP leaders lead us to believe that the party had nothing to do with development of the state and they only want to destabilise democratically elected government in Himachal.
Chauhan also blamed union government for misusing central investigation agencies for targeting Congress led governments and senior party leaders.