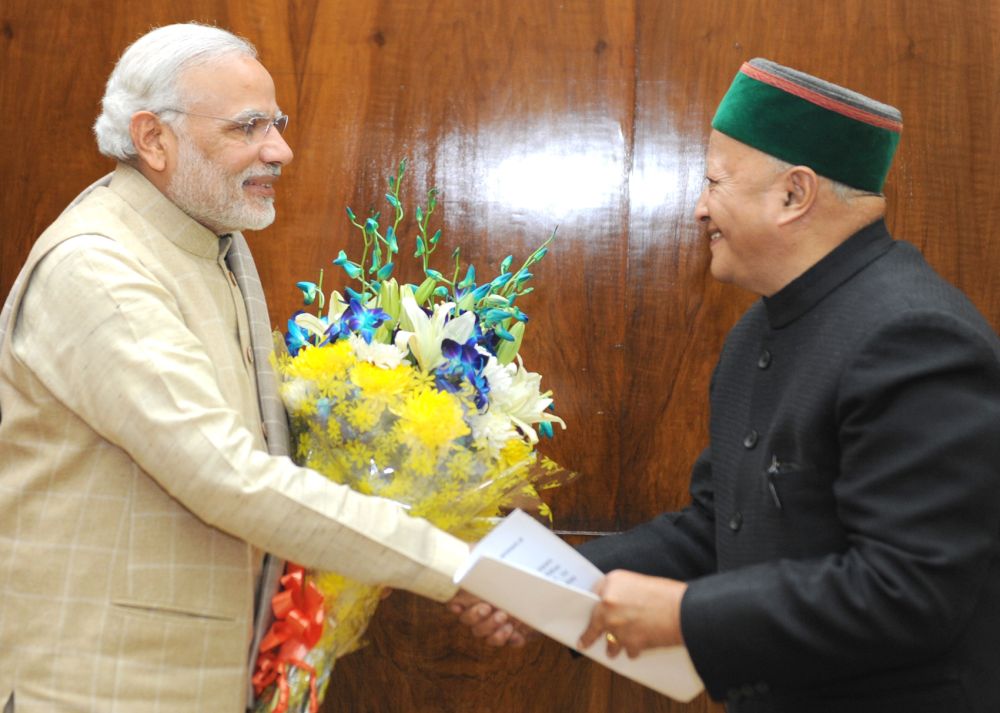 New Delhi: Himachal Pradesh Chief Minister Virbhadra Singh today called on Prime Minister Narendra Modi and discussed various state and current political issues of the State with him.
As per official communication, The Chief Minister raised the issue of four laning of Mandi-Pathankot National Highway No-154 (Old No.20) with Prime Minister. Virbhadra Singh sought intervention of Prime Minister so that the Ministry of Road Transport and Highways could take up the construction work on this road on priority basis.
The Chief Minister also urged the Prime Minister to direct to release funds under Flood Management Programme for Swan River and Chhounch Khad in Una District.
Virbhadra Singh also raised the issue of release of funds under MNREGA and apprised that since September, this year the State Government had not received any grant and there was about Rs.90 Crore wage liability pending with the concern department, causing inconvenience to the poor people and embarrassment to the State Government as well.
The Chief Minister also discussed the issue of transfer of land near H P Vidhan Sabha belonging to Government of India to the State Government for construction of new State Library. He apprised that the request in this regard had already been made to the Ministry concern.
Virbhadra Singh also urged the Prime Minister that there was a need to delegate powers to the State Government to accord environmental clearance for all run-of- the -river Hydro Projects and also, urged that the power of approval for diversion of forest land for non-forestry developmental purpose may be increased upto 10 hectare in the larger interest of the people of this State.
The Prime Minister assured the Chief Minister that the issues raised by him would be taken up on priority basis and no compromise would be made on developmental issues in any corner of the Country.