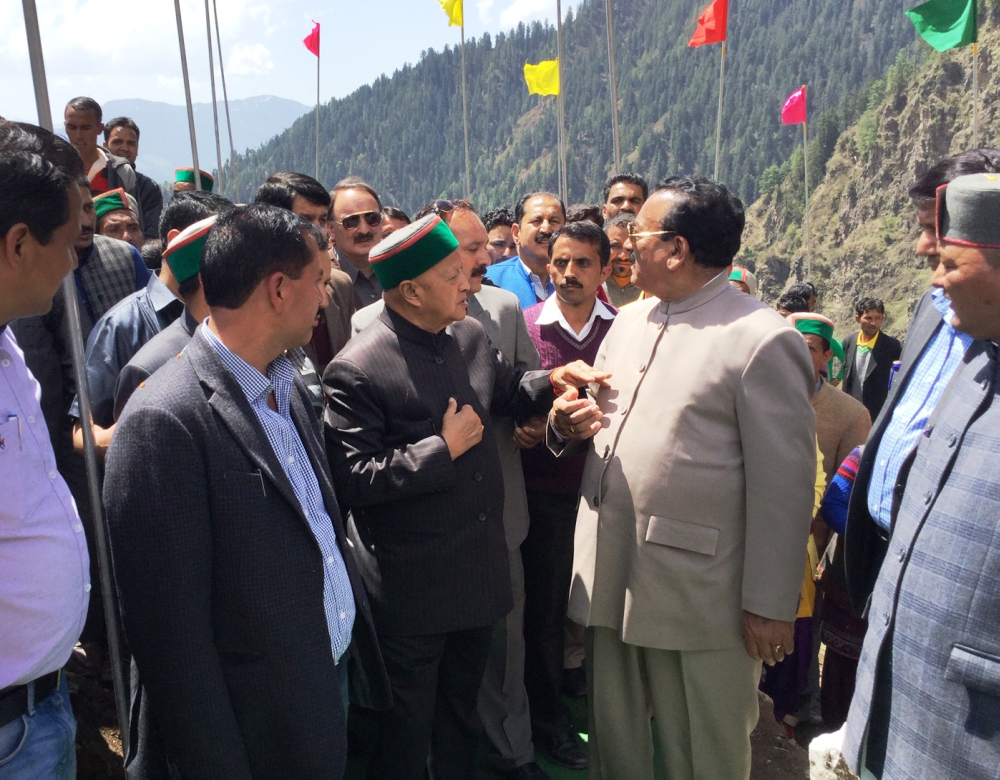 Reiterating the resolve of the State government to maintain the rich cultural heritage of the state, Chief Minister Virbhadra Singh said that we need to preserve our 'Dev Sanskriti' which was the identity of our existence and culture.
He was addressing a public meeting in the campus of Khantu Devta at Ranole of sub-tehsil Chirgaon in Shimla district, today. He said the Khantu Devta temple would be maintained as per ancient architecture.
The Chief Minister said Himachal Pradesh had achieved various milestones of development since its formation and the successive Congress governments in the State had always given due importance to roads, as roads were the only means of development, socially and economically. The progress of any state depends on its road network which is the life line of development and prosperity, he said.
Speaking about Channelisation of Pabbar River, Chief Minister said that it was being channelised from Tikri till Hatkoti with an outlay of Rs. 200 crore.
The Chief Minister said that a double lane bridge would be constructed at Samoli to connect Rohru by-pass in near future which would be further extended till Mendhali, where double Lane Bridge already stands constructed.
He said that vegetable market at Mendhali would be completed this year whereas the work on Rohru bus stand would also be completed soon.
Earlier, the Chief Minister laid foundation stone of Government High School building, Ranole to cost Rs. 1.5 crore which will also have facility of three science labs. He also laid foundation stone of forest rest house to be completed at a cost of Rs 20 lakh and inaugurated road from Koila (Ranole) to Shagru completed with an outlay of Rs. 35 lakhs which was constructed jointly by the local Panchayat and PWD.
The Chief Minister also inaugurated the newly constructed sacred sanctum of Khantu Devta at Ranole in the temple complex and paid obeisance to the local deity. He also flagged off bus service from Ranole to Koyla.
He said that Himachal was a home for people of all religions and the Congress party believes in secularism and respects all religions alike.
Virbhadra Singh criticized the Land Reforms Bill of the GoI, which was against the farming community. He said that the Union Government in order to facilitate the big industrial houses was playing with the interests of the farmers.
MLA Mohan Lal Bragta, Vice Chairman HIMUDA Yashwant Chhazta, Deputy Commissioner Dinesh Malhotra, SP D.W.Negi and other prominent persons of the area were also present on the occasion.