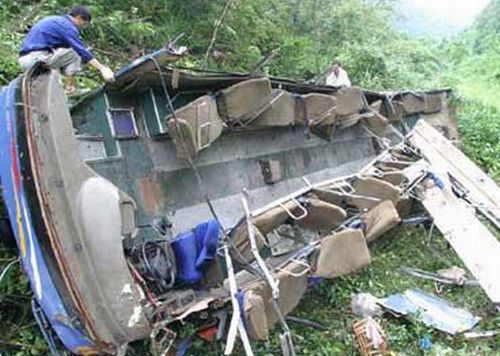 An overcrowded Dularo to Chamba private bus met with an accident at Gagaala about 12 Km. from Chamba, this morning in which 51 persons, including 18 women and two children, were killed and 46 have been injured. Accident took place near Rajera, 8km from the district headquarters of Chamba, when the bus driver lost control over the vehicle after a tyre burst and it fell into the 250-feet- deep gorge.
About 39 people, including the driver, died on the spot, while 13 died in hospital. Injured had been admitted in the District Hospital, Chamba. Nine seriously injured persons have been referred to Dr. R.P.Medical College, Tanda
Police stated that the 42-seater bus was carrying about 100 passengers with large number of them travelling on the roof of the vehicle when the tragedy struck.
Governor Urmila Singh and Chief Minister Prem Kumar Dhumal has expressed grief over the accident and conveyed their heartfelt condolence to the bereaved family and have wished speedy recovery of the injured. Chief Minister directed the District Administration to provide all possible assistance to the next of kin of those who lost their lives in the accident and best treatment to the injured.
The State Government has announced to give Rs. One Lakh as relief to the next of the kin who have died in the accident. Rupees 10,000 immediate relief had been disbursed. The injured will also be given up to Rs. 10,000 depending upon the gravity of the injuries.
The State Government had ordered Magisterial inquiry into the accident which will be done by the rank of officer of Additional District Magistrate.
Speaker, Himachal Pradesh Vidhan Sabha Tulsi Ram, and B.K. Chauhan, Local MLA also reached the spot of the accident to ensure proper rescue operation. They also visited the hospital to enquire into the welfare of the injured.
Sunil Chaudhary, Deputy Commissioner, Chamba accompanied by Superintendent of Police, Chamba and other Senior Officers and medical teams rushed to the spot of accident immediately on receiving information about the accident to supervise the rescue operation which was undertaken swiftly.
He said that arrangements were made to take dead bodies to the destination where their relatives intended to take besides four trucks of wood were also provided for the cremation. He said that four postmortem team were deployed and 37 postmortem were performed on the spot. He said that Home Guard, ITBP and Police Jawans were deployed in the rescue operation. He said that District Administration was providing all assistance to the sufferers.