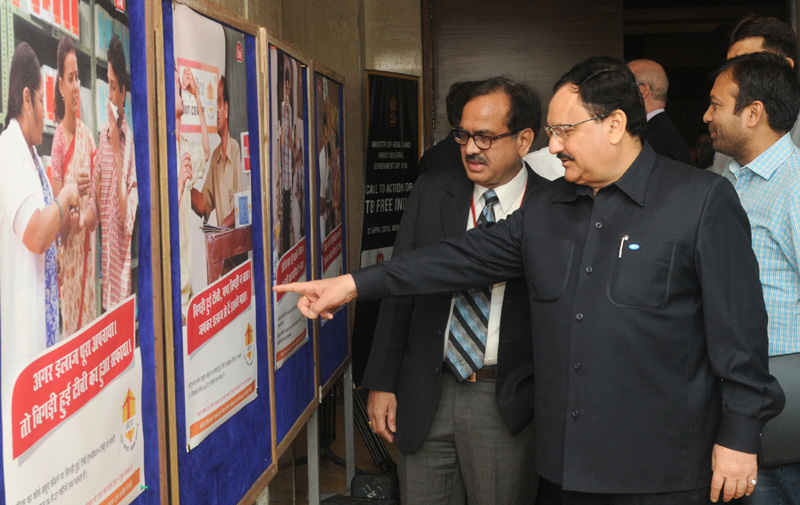 The Union Minister Health & Family Welfare J. P. Nadda today announced that a toll-free number will be launched soon to reach out to all suspected TB patients for counseling and treatment. Nadda made this announcement after launching 'Call to Action for TB Free India', here today.
Nadda assured that department working on getting the toll free number launched as early as possible and in addition to it, department will use mobile and other telecommunication tools in an innovative manner in this programme.
He said the patients would be able to call on this toll free number for any support and information they seek regarding TB. Even a missed call will suffice, the Health Minister informed. Based on the call received, the Ministry team will reach the person who had made the call, check his or her status of TB and ensure the person is covered in the programme to get correct diagnosis, free drugs, treatment and follow-up.
The Health Minister stated that one of the biggest challenges faced by the TB Control Programme is in reaching out to the TB patients. The toll-free services will help the patients to be incorporated in the TB Control Programme. The Health Minister also informed that a massive mass awareness campaign through multi-media campaign will be taken up as part of the Call to Action for a TB Free India. He appealed to various stakeholders across the private sector, civil society members, experts, doctors, patients and caregivers to be part of the movement to make India TB free. The Call to Action is not merely a slogan, Shri Nadda said. It is a movement to galvanise all stakeholders for a common shared commitment.
The Health Minister further added that to achieve the vision of TB Free India, the Ministry will ensure 90 percent coverage of BCG under the Mission Indradhanush; reach out to the unreached; diagnose all TB cases within two weeks of symptoms and refer to the nearest public health center; employ extensive use of rapid diagnostic kits and active screening of high risk population; and ensure treatment completion. The Minister added that efforts will be made to match international cure rates for MDR and XDR TB.