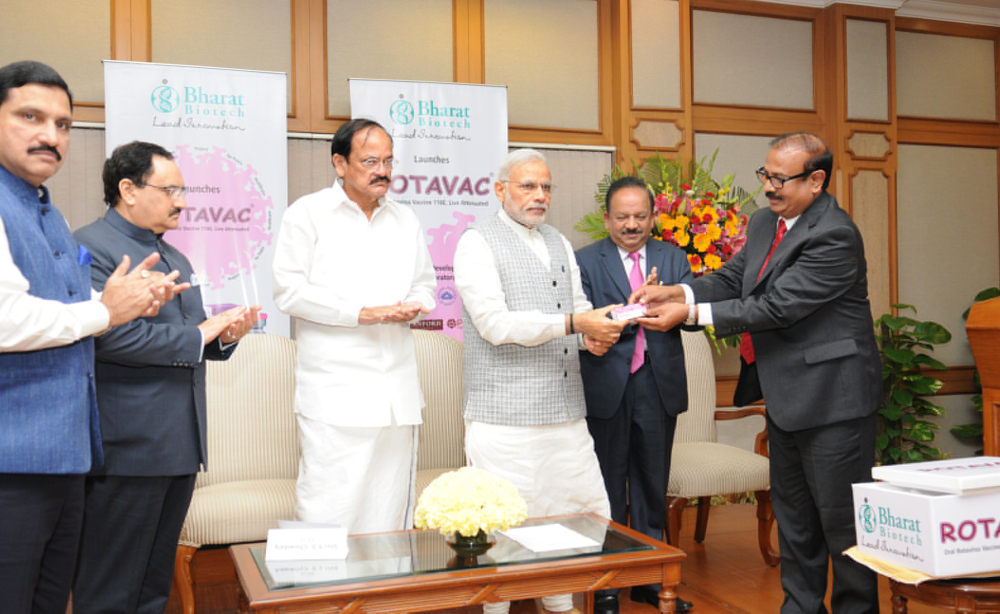 The Prime Minister Narendra Modi today launched the first indigenously developed and manufactured Rotavirus vaccine: `Rotavac.`
The indigenously developed vaccine will boost efforts to combat infant mortality due to diarrhoea. The vaccine has been developed under an innovative public-private partnership model. It involved partnership between the Ministry of Science and Technology, the institutions of the US Government, various government institutions and NGOs in India, supported by the Bill and Melinda Gates Foundation.
Funding by Government of India supported basic research in educational and scientific institutions in India. This was also supplemented by the support of U.S. Government institutions like the National Institute of Health. The Gates Foundation and Bharat Biotech India Limited contributed towards product development and testing. The successful launch of the first indigenously developed and produced vaccine today was the result of an extraordinary effort spread over the last 25 years.
Each year, diarrhoea caused by rotavirus results up to 10 lakh hospitalizations and kills nearly 80 thousand children under the age of 5 years. Besides causing emotional stress to the affected families, it also pushes many Indian families below the poverty line and also imposes significant economic burden on the country.
The Prime Minister felicitated all the partners in the development of the first indigenous rotavirus vaccine, which involved the complete cycle from basic research to product development of this advanced vaccine in India.
The Bharat Biotech India Limited that was involved in the development and production of the vaccine was selected in 1997-1998 by the India-U.S. Vaccine Action Programme and the standard government procedures. The company has been given undertaken to keep the cost of the vaccine at US$ 1 per dose. This is the third such vaccine available globally against Rotavirus and, at the current prices, the cheapest.
Union Ministers Venkaiah Naidu, J.P. Nadda and Harsh Vardhan were present on the occasion.