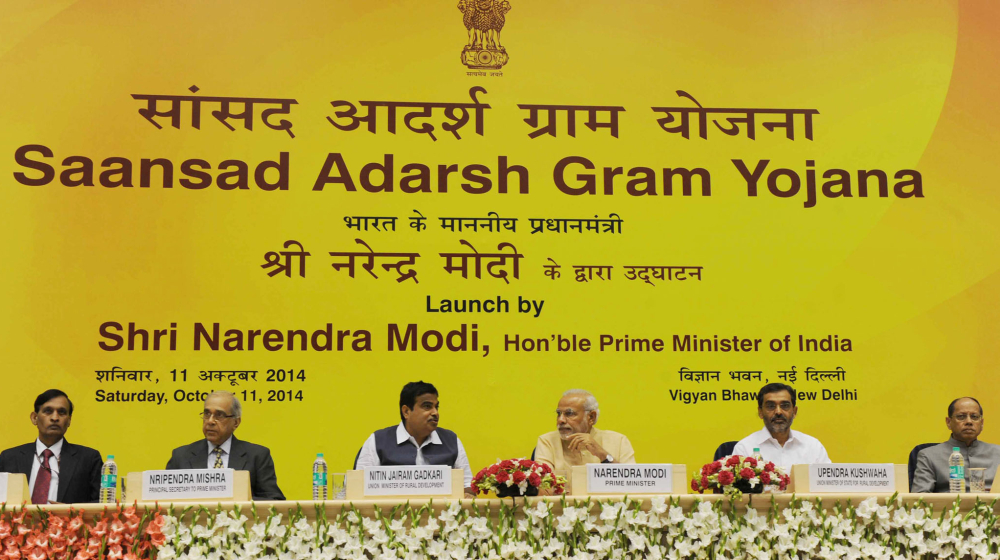 The Prime Minister Narendra Modi today launched the Saansad Adarsh Gram Yojana, calling it a scheme that would open the door for good politics, and inviting all MPs to select a village to develop on a demand-driven, rather than a supply-driven model, with people's participation.
The Prime Minister said that development in villages was often supply-oriented. The Saansad Adarsh Gram Yojana, would however have three distinct features – it would be (a) demand driven (b) inspired by society (c) based on people's participation. The Prime Minister said that while democracy and politics were inseparable, damage was often caused by bad politics. This scheme would inspire a movement towards good politics, with MPs acting as facilitators and catalytic agents, the Prime Minister said.
Addressing the gathering after releasing the guidelines for the scheme, the Prime Minister said that from independence till now, all Governments have worked for rural development. These attempts should be progressively modified with time, in tune with changes happening around the world.
The Prime Minister sought inspiration from Loknayak Jayaprakash Narain on his anniversary, saying that people's participation in development was essential in building an Adarsh Gram. He also paid tribute to Nanaji Deshmukh, who had worked towards the concept of village self-sufficiency.
The Prime Minister said the Saansad Adarsh Gram Yojana will work through the leadership of Parliamentarians. He said that by 2016, one village will be developed by the MPs, and then by 2019, two more villages will be taken up. He said that if states also encouraged their legislators to take up the scheme – five to six more villages could be added in this timeframe. He said if even one village per block is developed, it has a cascading effect on other villages in that block.
The Prime Minister said that various government schemes often worked in isolation – and this scheme would help MPs point out the bottlenecks in these schemes, leading to an outcome-oriented approach.
The Prime Minister said MPs were free to pick up any village in their constituency, except their own village or their in-laws village.
Stating that the Saansad Adarsh Gram Yojana would provide a flexible approach towards development, the Prime Minister expressed hope that the "Adarsh grams" would become places of pilgrimage for people interested in learning about rural development.
The Minister for Rural Development Nitin Gadkari hailed the initiative and said that Saansad Adarsh Gram Yojana will change the rural landscape of India. Gadkari said, each Member of Parliament will take the responsibility of developing physical and institutional infrastructure in three villages by 2019, of which one would be achieved by 2016.