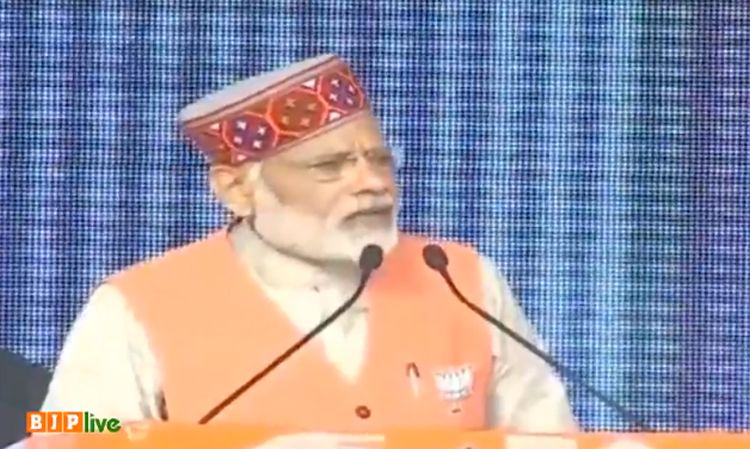 Prime Minister Narendra Modi today campaigned for BJP candidates in Himachal Pradesh. He accused Congress backed state government for corruption and asked people of the state to throw corrupt out of the power.
Prime Minister Narendra Modi, while addressing poll rallies in state, attacked the Congress for promising 'zero tolerance' in its election manifesto on corruption and mocked its Chief Minister for his alleged involvement in corruption.
"I feel Congress party has become laughing club, Congress party has promised a corruption free government in its election manifesto and its own chief minister is on bail on corruption allegations. Serious allegations are on him and even after that Congress party has promised of giving ''zero tolerance on corruption. Can anyone digest this?" he questioned the rally.
The Congress has been in power in the state under Virbhadra Singh since December of 2012, and faces charges of amassing wealth disproportionately during his tenure as a Union Minister in UPA-II, Modi said in the rallies and further claimed that mining mafia, forest mafia, drug mafia, tender mafia and transfer mafia were active from last five years and now time has come to uproot them.
The prime minister also accused a national congress leader for demeaning the valor of army personnel and rued that none of the Congress party leader hadn't even condemned his statement.
Modi said that the Congress party has lost morally to run the government and asked people of the state to teach a befitting lesson to the Congress party.
He said that now time has come to give farewell to the corrupt regime, and gave clarion call to electorates of the state to come in huge number on November 9.
Narender Modi claimed that the BJP would form the government in Himachal Pradesh under the leadership of Prem Kumar Dhumal. He promised to give a corruption-free and responsive government in the state.
PM also advised voters to remember Wazir Ram Singh Pathania, an unsung hero-who waged war against British tyranny and was exiled to Burma where he died in 1856, before casting vote.
He thanked people of state to come in huge number in his rallies.
Earlier, BJP national president addressed election rallies at Hamirpur, Thunag, Siraj in Mandi district of the state. Home Minister had also campaigned in Balh and Nachan of Mandi district of the state.