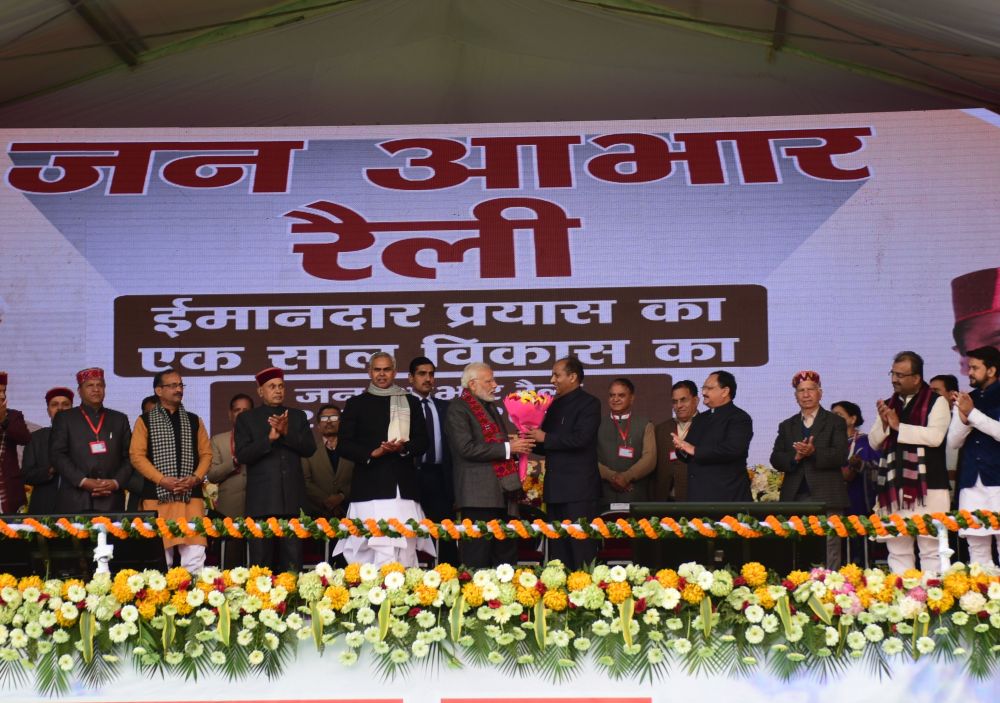 Dharamshala: Prime Minister Narendra Modi, today addressed a Jan Abhar Rally at Dharamshala in Himachal Pradesh, to mark the completion of one year of the State Government.
The Prime Minister praised the State of Himachal Pradesh, as a land of spirituality, and bravery. He applauded the State Government for reaching people, especially those in the rural areas of the State in the last one year, through its schemes.
The Prime Minister said the State Government is focusing on next-generation infrastructure. He said projects related to highways, railways, power, solar energy and petroleum sector, are all underway in the State of Himachal Pradesh.
The Prime Minister recalled that for forty years, our ex-servicemen longed for 'One Rank, One Pension'. He said that when his Government assumed office, the entire gamut of issues, and resources required was understood. Thereafter, OROP was implemented to ensure the welfare of our ex-servicemen.
The Prime Minister explained how the Union Government has curbed corruption. He said that through Direct Benefit Transfer, a check has been put on corruption and nearly Rs. 90,000 crore rupees has been saved.
The Prime Minister also visited an exhibition on government schemes. He also interacted with the beneficiaries of various schemes.
Chief Minister Jai Ram Thakur welcomed Prime Minister. He thanked PM for attending the celebration. He said that every area of the State and every section of the society have been benefited by the welfare and developmental oriented policies and programmes.
Meanwhile, the opposition Congress accused the BJP led Govt for misusing government's funds and machinery for political events. Congress also submitted charge-sheet against the government.