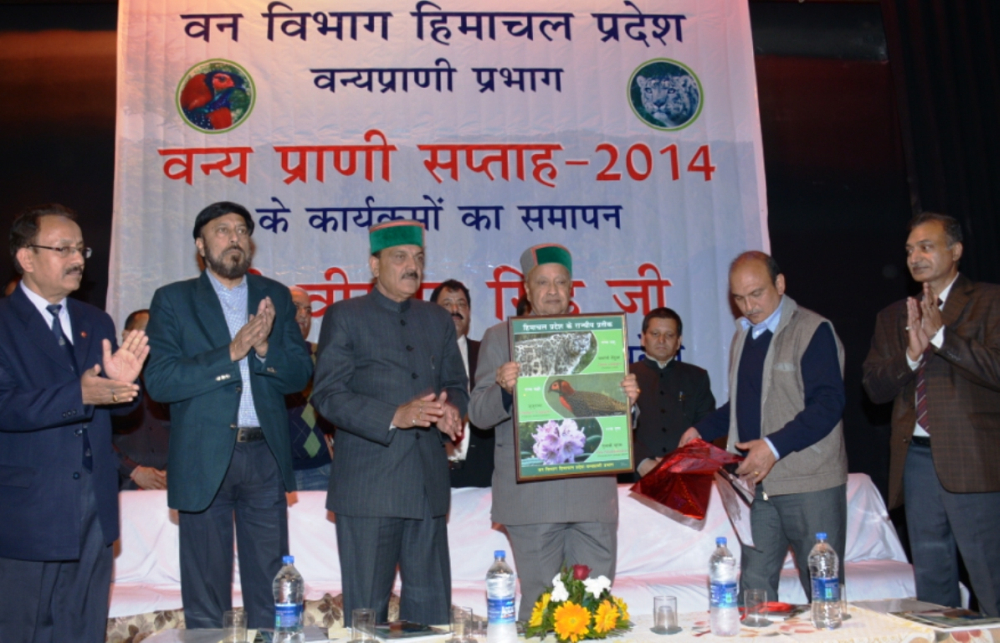 Himachal Pradesh Chief Minister Virbhadra Singh urged people of the state to conserve the precious green wealth.
While speaking at the State level Wild Life Week function organized by the Wild Life Wing of the Forest Department, Chief Minister asked everyone to participate to save the natural habitats of animals and the green cover. He stated that if people don't come forward voluntarily to carry out afforestation drives, all government initiatives won't achieve desired goal.
He rued that many endangered wild life species and flora and fauna were on the verge of extinction. He said that earnest efforts had been made in conserving the wildlife reserves by imposing complete ban on hunting in 1983 and green felling in 1984 when he first time became the Chief Minister of the State.
This had helped increasing the green cover and preservation of the flora and fauna besides providing safe natural habitats to the wild animals, CM further added.
He said that for safeguarding the interest of the human beings there were many organizations right below from the Panchayat level but it was the duty of every human being to protect the wildlife and our green reserves and other natural resources.
The Chief Minister said that State's initiatives to conserve wild life had been noteworthy. Today, the improved population of few endangered species and growing green cover was the result of the policies of the State Government for conserving the environment and our forest wealth.
He said that as a firm step towards rejuvenation and protection of forest and wild life, the forest department had been breeding species of Cheer Pheasant, Monal and Western Tragopan.
He stressed the need for being more efficient and to accelerate the drive for containing monkey menace. He directed the department to work seriously in this direction.
The Chief Minister also released souvenir on the occasion.
He also distributed prizes to the winners of the various competitions held during the weeklong Wild Life Week.
Sushil Srivastva, PCCF detailed about the weeklong activities undertaken by the department while celebrating the Wild Life Week. He said that an International Workshop was organized in Shimla by Wild Life Conservation Society in collaboration with Wild Life Conservation Society, Maharashtra to study man-animal conflict issues and explore possible solutions.
Tarun Shridhar, Principal Secretary Forests and Lalit Mohan Chief Wild Life Warden, Chief Conservator P.L Chauhan and Chief Parliamentary Secretary Nand Lal were present on the occasion.