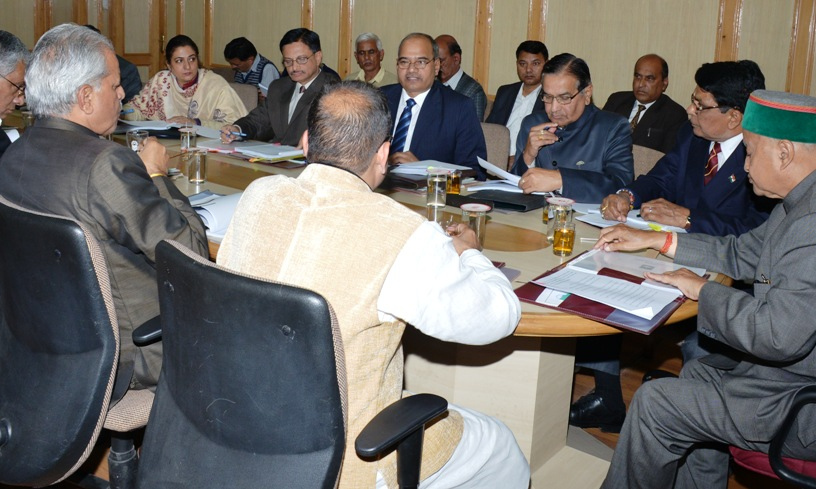 Shimla: In the State Level Vigilance and Monitoring Committee meeting, Himachal Pradesh Chief Minister Virbhadra Singh directed police department to make earnest efforts to complete investigations in the cases pertaining to harassment of the SC/ST's.
He also directed the Home Department to take up the matter with the Registrar General of the HP High Court to constitute exclusive special courts for speedy disposal of cases of atrocities against SC/ST's.
The Chief Minister directed the district level committees to look into the harassment or atrocities on SC/ST's and besides assessing that cases were not withdrawn by the victims of such atrocities under duress. He said it had also to be looked after by the investigating agencies that the people may not use this Act for scoring personal vendetta as the genuine cases sometimes did not justice.
The Chief Minister urged the HP State legal Service Authority to create awareness amongst the people regarding the legal aid being provided to the victims of the atrocities or to the any other person who himself wants to be party in the case in favour of the victims.
He directed that the meetings of the monitoring committees to look into the affairs of the SC/ST community at district level be held as per the norms four meeting annually.
He lauded the efforts of the Social Justice and Empowerment Department for spreading the awareness about untouchability and rights of the SC/ST's by organizing awareness camps in the rural and far flung areas.
Kuldeep Kumar, Chairman HP State Finance Commission placed before the Chief Minister the demands of Himachal Pradesh SC/ST Vikas Sangh pertaining to waving off the loans. He also raised the matter pertaining to a missing dalit woman in Una and asked the police to look into the case.
Prakash Chaudhary Excise and Taxation Minister, Dr. (Col.) Dhani Ram Shandil Social Justice and Empowerment Minister, Nand Lal Chief Parliamentary Secretary, Virander Kashyap, M.P., Khub Ram, Kishsori Lal and Mohan Lal Brakta, MLAs, P. Mitra Chief Secretary, V.C. Pharka Additional Chief Secretary, P.C. Dhiman Principal Secretary SJ&E, Sanjay Kumar DGP, Satwant Atwal, IG Crime, Raj Kumar Channena Director National Commission for Schedule Caste, M.L. Sharma Director Prosecution and Harbans Negi Additional Director SC/OBC and Minority Affairs were also present on the occasion amongst others.