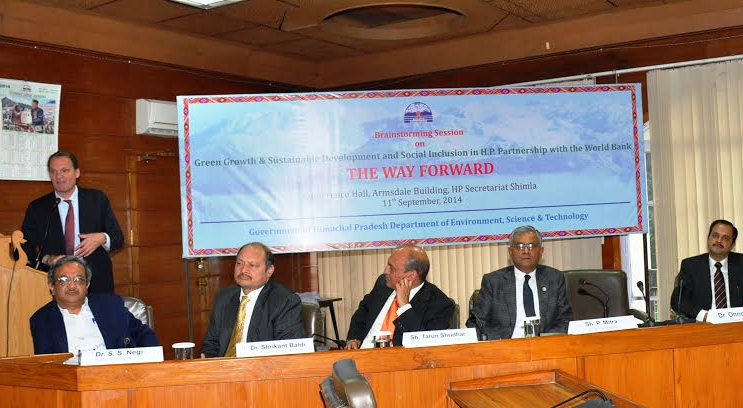 Himachal Pradesh has embarked on the path of green growth and sustainable development keeping in view its location in the fragile Western Himalayan region and the need to develop without disturbing the delicate ecological balance. Chief Secretary P. Mitra said this while addressing 'Brainstorming session on Green Growth & Sustainable Development and Social Inclusion- Partnership with the World Bank and The Way Forward' held here today.
Dr. Onno Ruhal, Country Director World Bank and his team, Additional Chief Secretaries, Principal Secretaries, Secretaries, Heads of Departments and senior officers participated in Brainstorming session.
P.Mitra said that the Himalayan Mountain Chain was of critical importance not only for the people of this region but also to a significant proportion of the population of South Asia. He said that the State of Himachal Pradesh was richly endowed with natural resources that provide valuable environmental services for North India. It had five major river basins and its serves as a watershed that was critical to the livelihoods of more then 200 million people in Haryana, Punjab, Uttar Pradesh and Rajasthan States.
Chief Secretary said that Himachal Pradesh (H.P.) had one of the main sources of clean energy i.e. Hydro power for the Country which could address both the energy and peak shortages of power of the Northern Region. He said that recognizing the scope for fueling growth through its natural assets the H.P. Government with the World Bank assistance has introduce initiatives designed to enhance environmental stewardship and to build a new platform for green growth and sustainable development.
He said that the programme of green growth and sustainable development was aimed at generating economic development by improved management of its natural resources through sustainable actions across various sectors. He said that the next stage was to build on these initiatives and strengthen the process of green growth in Himachal Pradesh.
During the meeting the progress of DPL-II project was reviewed and new project proposals mainly in the sectors of Green Growth & Environment, Roads & Freight Corridors, Hydro Electricity, Sustainable Forest Management, Skill Development, Agriculture, Rural Water Supply & sanitation, and urban development were discussed.
Onno Ruhl, Country Director, World Bank, showed his satisfaction over the implementation progress of all World Bank funded projects in the state and assured that the Bank will continue its technical and financial support to the State in future. He said that the World Bank would look forward in strengthening the partnership with Himachal government especially in hydel, tourism, health, roads and social sector.
Earlier, the team visited the sites of proposed Comprehensive Mobility Project for Shimla town.
Tarun Shridhar, Principal Secretary Environment, Science and Technology, Forest in his opening remarks said that that focus of green growth and sustainable development was aimed at promoting climate change adaptation and mitigation keeping in view fragile topography of the State.
The meeting was attended by all Administrative Secretaries and Head of the Departments in the State.