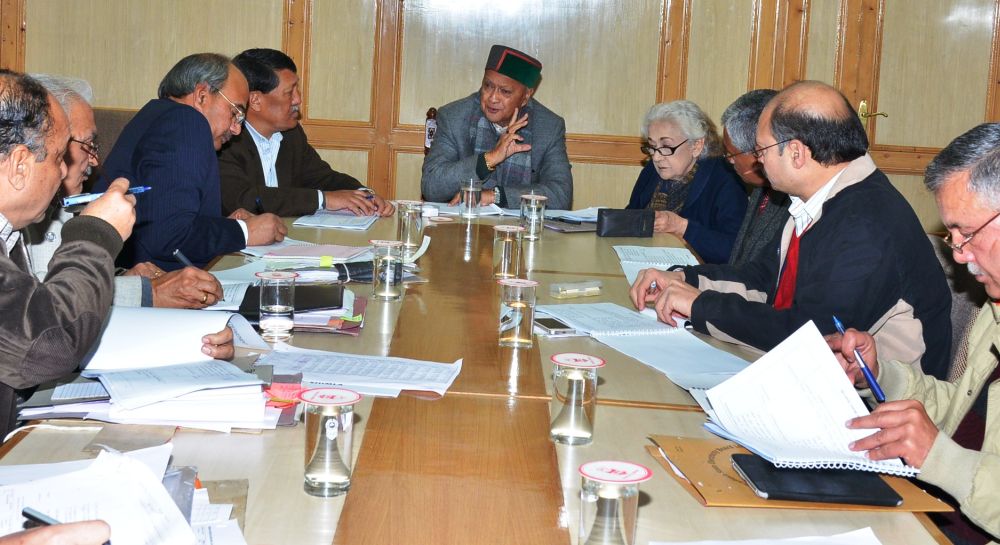 Shimla: The Irrigation and Public Health (IPH) department, which is under criticism for lifting contaminated water from Ashwani Khad to Shimla city, has failed to achieve its own target.
In its review meeting, presided by Chief Minister Virbhadra Singh, it's learned that total 1332 habitats had been provided drinking water during this financial year upto November, 2015 against the target of 2074 habitations. Similarly, department has failed to meet its another target of covering 3500 hectare area under irrigation facility as it could only cover 2043 hectare.
Chief Minister Virbhadra Singh today directed the IPH department to complete all major drinking water supply and irrigation schemes within the stipulated time.
He said that detailed project report (DPR) amounting to Rs. 220 lakh for Salli to Dairni Rirkumar, Hathor Kuhal water supply scheme in Shahpur Assembly segment of Kangra district had been submitted to NABARD. He said that DPR had been prepared for channelization of the small rivers flowing to Beas River covering the villages of Ganu Mandwara, Marwari, Raipur, Babehar, Daulatpur, Dangoh Khas Dangoh Khurd, Joh, Pirthipur and Saloh Berri. Due to the non-feasibility of lift irrigation scheme sanctioned at Ajroli in district Sirmour, the Chief Minister directed the department to locate another source of water.
He directed to depute senior officer from the department as a nodal officer to peruse the matter with Government of India (GoI) for releasing remaining funds of various centrally sponsored schemes. He blamed the GoI for not releasing installment of central assistance for various schemes due to which either these schemes had not been completed in stipulated time or work progress was very slow.
The Chief Minister also directed to expedite the work on the channelisation of the Pabbar River in Shimla district, Chhounchh Khad in Kangra district, Beas River from Pulchan to Aut in district Kullu and Seer Khad from Barchhwar to Jahoo in Sarkaghat. He said that channelization of river Beas would be done on priority. A DPR amounting to Rs. 1155.15 Crore had been prepared and submitted to Government of India.
He said that sewerage system would be extended to Manali rural areas for which DPR amounting to Rs. 101 Crore had been prepared. He directed the department for conducting the survey and preparation of estimate for sewerage scheme to Chirgaon town and submit the proposal at the earliest.
Irrigation and Health Minister Vidya Stokes, Chief Secretary P. Mitra, Additional Chief Secretaries V.C. Pharka and Dr. Shrikant Baldi, Additional Chief Secretary, IPH, P.C. Dhiman, Engineer-in-Chief, IPH R.K. Kanwar and other senior officer of the department were present in the meeting.