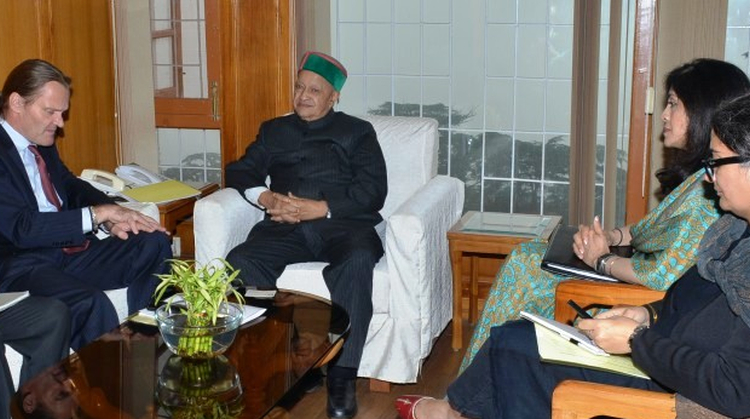 To review the implementation and progress of the development Policy Loan (DPL-II) Project in Himachal Pradesh, Dr. Onno Ruhal, Country Director, World Bank along with its delegation called on Chief Minister Virbhadra Singh here today.
The Chief Minister urged World Bank to add Himachal Pradesh in the list of priority States for funding of development projects by the World Bank.
The Chief Minister also asked for technical assistance and support for developing detailed projects reports of several projects to be implemented in the State.
Ruhl showed his satisfaction over the implementation of all World Bank funded projects in the State and assured that the Bank will continue its support and technical assistance to the State.
Earlier, Rhul along with Sona Thakur, communication Specialist, Maitreyi B Dass, Senior Social Development Specialist and Puush Dogra, Senior environment Specialist held a meeting with the Chief Secretary P. Mitra and discussed the Status of the World Bank aided projects being implemented in the State.
The meeting was attended by all by all administrative secretaries and Head of the Departments.