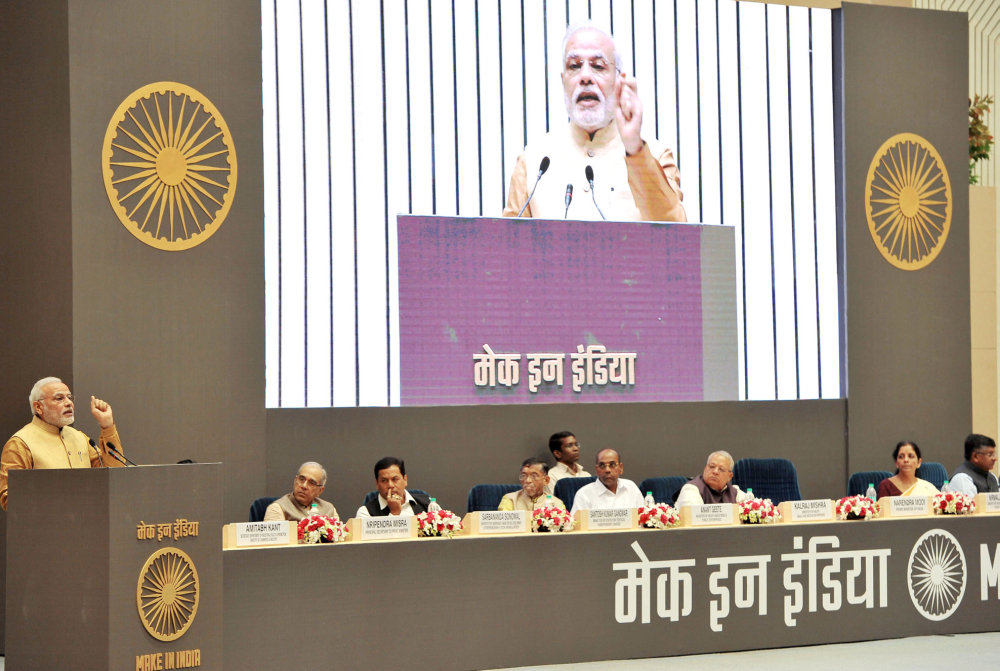 The Prime Minister Narendra Modi today launched the Make in India initiative with an aim to give the Indian economy global recognition.
While addressing the event at Vigyan Bhawan in the capital, the Prime Minister said "FDI" should be understood as "First Develop India" along with "Foreign Direct Investment." He urged investors not to look at India merely as a market, but instead see it as an opportunity.
The Prime Minister said that India is the only country in the world which offers the unique combination of democracy, demography, and demand. He said the new Government was taking initiatives for skill development to ensure that skilled manpower was available for manufacturing. He also referred to the Digital India mission, saying this would ensure that Government processes remained in tune with corporate processes.
The Prime Minister said he had felt a mood of gloom among India`s business community in the last few years, due to lack of clarity on policy issues. He said he had heard even Indian businessmen say that they would leave India and set up business elsewhere. The Prime Minister said this hurt him, and added that no Indian business should feel a compulsion to leave the country under any circumstances. He said on the basis of the experience of the last few months, he could say that the gloom has lifted.
The Prime Minister gave the example of the new Government's initiative on self-certification of documents, and said this was illustrative of how the new Government trusted the citizens. The Prime Minister said trust is essential for investors to feel secure. Let us begin with trust; if there is an issue, Government can intervene, he said. The Prime Minister said trust too can be a transformative force.
Narendra Modi said development and growth-oriented employment is the government's responsibility.
The Prime Minister noted that India ranks low on the "ease of doing business" and added that he has sensitized Government officials in this regard. He also emphasized the need for "effective" governance.
To the expression "Look East," the Prime Minister added "Link West", and said a global vision was essential. He said Mission Swachh Bharat and "waste to wealth" could lead to good revenue models for business as well. He referred to his vision of waste water management and solid waste management in 500 towns across India through public private partnership.
The Prime Minister also spoke of infrastructure of the future – including i-ways besides highways – and mentioned port led development, optical fibre networks, gas grids and water grids.
The Prime Minister also unveiled the Make in India logo, and launched its website.