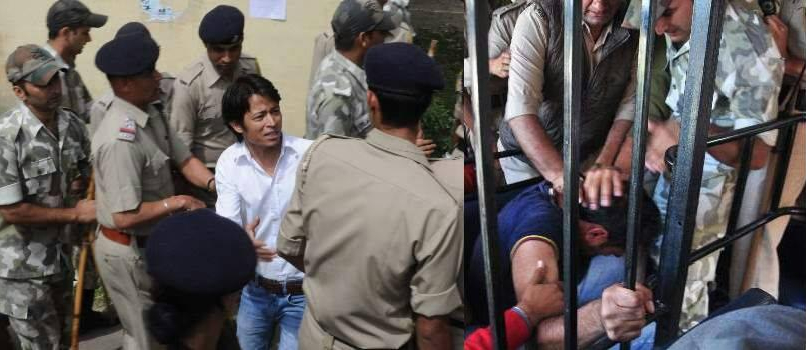 The Himachal Pradesh University (HPU) has expelled nine students Puneet Dhanta, Rahul Chauhan, Rajan Harta, Hoshiar Singh, Vikram Kaith, Nandan Karol, Jeeta Singh, Piyush Sewal and Sanjeev Kumar for gross indiscipline and vitiating the academic atmosphere on the campus.
To rein the agitating students, who were protesting against fee hike and cancellation of SCA polls, Police resorted lathi-charged and detained over 220 students in violation of Section 144 of CrPC, which was imposed earlier Thursday.
Protesting students and political outfits condemn the police atrocity and accused police for vitiating University atmosphere. However, police accused protestors for indulging in stones- pelting on the police and creating public nuisance.
The HPU authority has also decided to close the boys' hostels indefinitely with effect from September 20 (5 pm) as University administration has directed all the boarders to vacate the hostels before 5 pm.
HPU Vice-Chancellor ADN Bajpai has asked students to help in maintaining academic atmosphere of the campus and attend the classes regularly.
Earlier protesting students had manhandled Vice-Chancellor ADN Bajpai, when he was stopped at the gate. In the wake of manhandling incident, heavy police personnel were deployed at the University Campus.
Chief Minister Virbhadra Singh has already made clear that there was no place for violence in educational institutions and stringent action would be taken against those indulging in violence and unlawful activities, vitiating the academic atmosphere.
State BJP Chief, Satpal Singh Satti and CPM leader and Shimla MC Deputy Mayor Tikender Panwar have criticized state government for lathi-charge of HPU students.
Satti, in his press statement accused Chief Minister Virbhadra Singh for the violence in the University. He accused that whenever Virbhadra Singh took over as Chief Minister, the atmosphere in the university had been vitiated.
He said the CM had reduced the grant of university, already reeling under financial crunch, from Rs 90 crore to Rs 63 crore and as a result the university hiked the fees enormously and passed the burden on the students.
CPM leader has accused government and HPU authorities to suppress the voice of the students who were protesting against the fee hike and demanded immediate resignation of Vice-Chancellor.