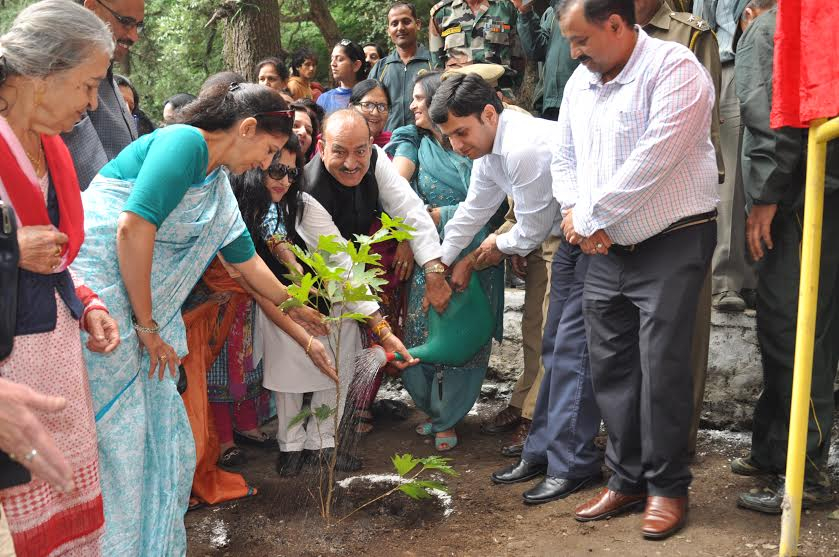 Health Minister Kaul Singh Thakur revealed that Rs. 126 crore were being spent for fencing of plantation area to enhance the survival rate of the saplings of plants. Kaul Singh Thakur was presiding over 'Van Mahotsav' organized by Hospital Welfare Branch of State Red Cross in collaboration with Forest Department at South Wood near Rajbhawan here today.
Kaul Singh Thakur planted sapling of 'Chinar' on this occasion.
Kaul Singh Thakur said that to make plantation drive a public campaign, a target of bringing 17,500 hectare of area under plantation had been fixed and five lakh students of 3000 schools had been involved under afforestation campaign. He said that a provision of Rs. three crore had been made and about 45 lakh medicinal plants would be planted.
Health Minister called upon NGOs to come forward in supplementing the Government efforts for planting saplings and preserving the environment of the State which was pre-requisite need for healthy ambiance. He lauded the endeavour of Hospital Welfare Branch for playing pivotal role in this direction.
Vice Chairperson of Hospital Welfare Branch Firoza Vijay Sehgal, Executive members of Branch, Principal of St. Bedes College, Dr. Sister Bina John, students of St. Bedes College and Government College, Sanjauli, JCO of Eco Task Force (ETF) Naib Subedar Kamlesh Sharma and jawans of ETF and other prominent people planted about 300 medicinal and other plants on the occasion.
Additional Principal Chief Conservator of Forests Dr. Savita, Chief Medical Officer Dr. Dalip Kanwar, DFOs Sarvshree Raman Sharma, Vinod Sharma, Dr. Om Pal, MLA Lahaul-Spiti Ravi Thakur and other prominent persons were also present on the occasion.