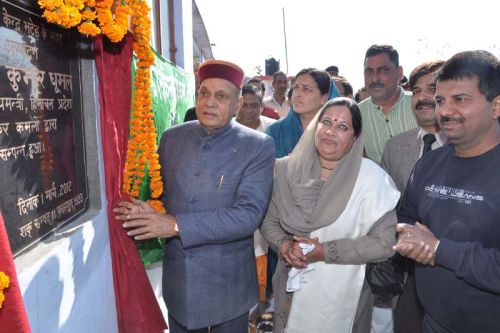 Chief Minister Prem Kumar Dhumal dedicated newly constructed Health Sub Centre constructed at a cost of Rs. 13.5 lakh, at Bhater village in district Hamirpur. He said that it all was testimony to the efforts made by the State Government towards creation of quality infrastructural facilities in the villages which they otherwise had been availing in the urban areas. He said that even the families which had migrated to metropolitan cities and other urban areas were also returning back to their native places keeping in view the best connectivity available in the State.
Chief Minister said that quality infrastructure of basic necessities of road, education and health had been provided to the villagers at nearby places which had checked migration of rural population in quest of such necessities in adjoining sub-urban areas. He said that Lag Devi-Jandru-Bir Bagehra had been connected with all weather roads during previous regime of BJP 1998-2003. He said that Atal Swasthya Seva had probed to be a great success which had been providing people free ambulance service. He said that free institutional delivery facility was available to the pregnant woman with medical care of mother and child for one year further. He said that free medical check up was carried of school students under first phase of Mukhya Mantri Vidyarthi Swasthya Yojna and 73 dental doctors were recruited in one go to look after dental hygiene of the students. He said that second phase of the scheme had also been launched when free de-worming pills would be administered to them to stay healthy.
Prof. Dhumal said that a number of self employment oriented schemes had been introduced which included ambitious Rs. 353 crore Pandit Deen Dayal Kisan Bagwan Samridhi Yojna, consisting of record subsidy of 80 percent for construction of poly houses and mini-micro irrigation schemes; Rs. 300 crore Doodh Ganga Yojna to revolutionise rural economy in dairy farming wherein general category of beneficiaries were eligible to get 25 percent while scheduled caste to get 33 percent subsidy to buy high yielding species of milch animals, and similarly Rs. 321 crore scheme of diversified and organic farming had also been launched in the State. He said that Himachal Pradesh had lowest infant mortality rate of 40 children against the population of 1,000 infant, in the country.
Chief Minister said that polythene free Himachal Pradesh had emerged a source of inspiration to rest of the country which was a vital step in making the State pollution free and plastic free. He counted developmental activities taking place in the area. He announced Rs. 3 lakh for the Kakkar link road, and Chhamb road to be passed in one week time, Rs. 60,000 for crematorium, Rs. 2 lakh for community centre in the area. He said that Kakkar-Tauni Devi-Delhi bus service would also be started soon.
Later Chief Minister also visited parents of Shri Dinesh Kumar of Lohakhari village, who was buried under avalanche in Jammu and Kashmir recently, to condole his death with his parents. Rakesh Thakur, General Secretary, District Hamirpur BJP, the policy of Sadak-Shiksha-Swasthya had ensured uniform development of different areas of the State and had benefited Bamson area as well. He said that the State was poised to emerge a role model in the country under dynamic leadership of Prof. Prem Kumar Dhumal. Virender Thakur, General Secretary, BJP Mandal, Sujanpur, welcomed the Chief Minister, and thanked him for dedicating health sub centre building to the people and said that developmental works worth Rs. 30 crore were under execution in the area. He detailed various other developmental activities taking place in the area.
Dharam Chand, Up-Pradhan, Gram Panchayat, Bhater, lauded Atal Swasthya Seva Yojna which was facilitating people of the area immensely with free ambulance and strengthening road network in the area. He said that funds worth Rs. 9 lakh had been spent on developmental activities in the panchayat.
M.C.Parmar, Chairman-cum-Managing Director, HP State Ex-Servicemen Welfare Corporation, Sarla Sharma, Chaireprson, Zila Parishad, Des Raj Sharma, President, District Hamirpur BJP, Vijay Behl, Vice President, District BJP, Virender Thakur, President, BJP Mandal Sujanpur, Vijay Pal Soharu, Member, State Media Advisory Committee, Dharmender Sharma, Vice President, Municipal Council, Hamirpur, Ajay Sharma, President, District Hamirpur BJYM, Baldev Rana, former President, BJP Mandal, Sujanpur, Rajender Singh, Deputy Commissioner, Kuldeep Sharma, Superintendent of Police, B.T.Negi, Chief Engineer, PWD, other senior officers and prominent people of the area were present on the occasion.