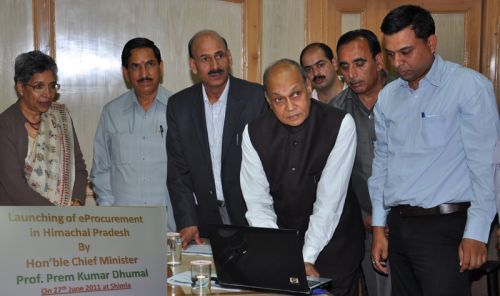 Chief Minister launched e-tendering process for procurement of different commodities by major departments through the Department of Information Technology in association with the National Informatics Centre of the State by clicking the mouse of the computer and making two tenders of Irrigation and Public Health Department and one tender of Public Works Department available valued at Rs. 104 crore.
Speaking on the occasion Chief Minister said that the e-procurement will not only bring about efficiency in the functioning of the tendering departments but also reduce paperwork through automated bid evaluation system. He said that the system will be error free and promote transparency in the process thereby eliminating discrimination and discretion. He said that the process would be instrumental in promoting fair competition thereby resulting into cost reduction. He said that the new process would make bid/tender process more efficient and save man-hours being spent under the existing system. He said that a number of States had started e-procurement system in the country and now Himachal Pradesh would be one of such States. He said that the e-tendering process had been estimated at about Rs. 86,937 crore through NIC while Himachal Pradesh would also be carrying e-Tendering/Bidding through the major departments of Public Works, Irrigation and Public Health and Controller of Stores.
Prof. Dhumal said that generally Governments around the world are the major procurers of goods, services and works and Government procurements in India constituted of about 13 percent of the Gross Domestic Product while the public procurement was estimated at about 25 percent. He said that about 15,000 tenders were being floated in the State every year and estimated at about Rs. 2,000 crore. He said that the existing manual procedure is time consuming leaving less time for monitoring and implementation of projects. He said that inefficiency and lack of transparency were major concerns in the existing procedure while the web based online tool to make the processes of procurement and tendering more efficient. He said that the new system would minimize procurement costs and maximize procurement efficiency. He said that to begin with Public Works Department, Irrigation and Public Health Department and Controller of Stores would be taken up for e-tendering in the State which would be extended to cover other departments in due course of time. He said that extensive training programmes had been conducted for officials as well as bidders and digital signature certificates for officers and contractors to participate in the electronic tendering process. He said that in the near future integrated e-payment gateway with the e-Procurement system was likely to be started.
Earlier Director of Information Technology Rajneesh Kumar welcomed the Chief Minister and detailed the components of the e-Procurement System. He said that efficiency, transparency, promote fair competition and reduce cost of the commodities in the process. He said that all departments will be brought under the ambit of the scheme in a phased manner.