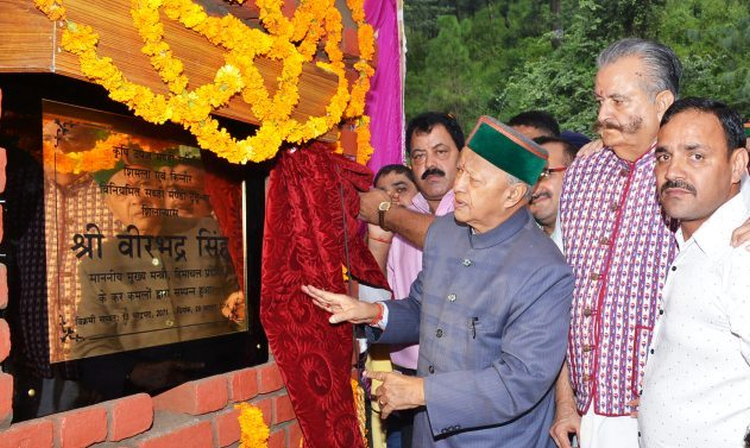 Chief Minister Virbhadra Singh announced that Government Senior Secondary School, Shoghi would be made a Model School on the analogy of Portmore School, Shimla. He said it while speaking on the closing ceremony of under 19 Zonal School's Tournament at Government Senior Secondary School, Shoghi.
CM also stated that the Government was contemplating to change the dress code in Government schools as being adopted in Convent Schools.
Chief Minister also directed the Education Department for constructing new science block at GSSS Shoghi. He said that appropriate land would be identified for construction of Subzi Mandi near Shoghi area which would be soon dedicated to the people and asked the Deputy Commissioner Shimla and Chairman Marketing Board to find a suitable land as soon as possible.
Chief Minister said that sports play an important role in shaping the personality of an individual and instilling in them a sense of discipline, decorum and responsibility towards the society.
He also distributed prizes to the students on the occasion and exhorted them to outshine in every field of life and contribute towards Nation building. He congratulated the winners and exhorted others to work hard for achieving the best ranking in future.
He also announced up-gradation of Government Middle School, Sehal near Hanuman temple, Shoghi and GMS Mehli to High Schools.
Earlier, the Chief Minister inaugurated the Primary Health Centre at Tutu and also laid foundation stone of Sabzi Mandi at Tutu to be constructed with an outlay of Rs.5.50 crore in two different phases. He also inaugurated Rs. 20.15 lakh Ayurvedic Dispensary building and performed foundation laying ceremony of Ambedkar Bhawan at Shoghi in Gram Panchayat Jalel which would cost Rs. 20.67 lakh. The Chief Minister announced Sewerage Scheme for Totu Township.
Virbhadra Singh also laid foundation stone of Science Learning Centre (Planetarium) at Anandpur in Shoghi to be constructed at the cost of Rs. 11 crore. The proposed remote Sensing Centre to be constructed under this project would help in analyzing the nature of glaciers, floods, rivers, etc.
The Science Learning Centre would also have a science museum, bio-diversity Park and modern laboratories besides a corner projecting the culture and traditions of the State. He said that this would be one amongst few planetariums in the country where besides the tourists; the people of the Pradesh would also be able to get themselves acquainted with the mysteries of planetary system.
The Chief Minister also inaugurated the road from Chauri Ki Ghatti to Charauu and also flagged a bus on the route.
Chairman, HP State Agriculture Marketing Board, Subhash Manglet, Vice-Chairman HPSIDC, Atul Sharma, Deputy Commissioner, Dinesh Malhotra, Superintendent of Police D.W. Negi and other senior officers of the State Government and prominent persons of the area were also present on the occasion amongst others.