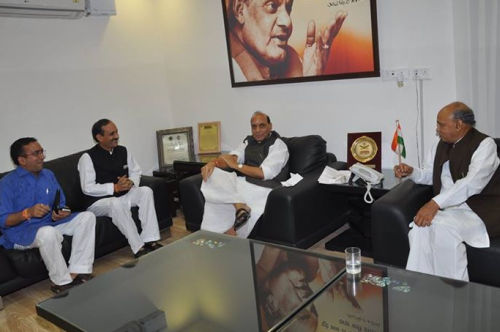 Following reports of infiltration, Senior BJP leader and Leader of Opposition Prem Kumar Dhumal has advised Union Home Minister Rajnath Singh to re-deploy Indo-Tibetan Border Police (ITBP) in its border area with Jammu & Kashmir.
Former Himachal Pradesh Chief Minister met Rajnath Singh in Delhi and handed over a letter to him, reminding that terrorists had struck in the area on August 3, 1998, killing 35 labourers in Satrundi and injuring eleven in Kalavan.
A police constable was also killed in the terrorist attack. The then Home Minister L K Advani had deployed ITBP immediately along the Chamba border, but later UPA led Union Government withdrawn the force.
Dhumal apprised Union Home Minister that the Chamba shared 200-km border with Doda district of Jammu and Kashmir and recently suspicious terrorist present were reported near the Ravi basin.
Prem Kumar Dhumal stated that the ITBP should be deployed at the earliest to prevent any untoward incident.
Rajnath Singh has assured that he would soon visit the area to take stock of the situation and take necessary action.
BJP State President Satpal Singh Satti and Pawan Rana accompanied Dhumal in the meeting.