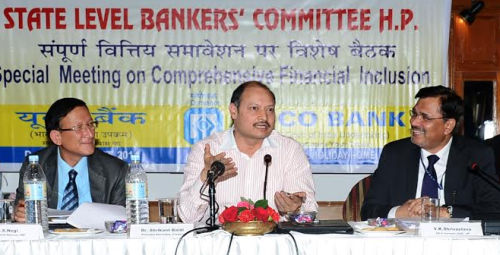 Himachal Pradesh has large financial inclusion as per capita income and literacy rate of our State was quite high as compared to other States. The deposits in various banks were over 50,000 crore in Himachal Pradesh, which is a small hilly State, speaks volume about its financial vibrancy. Principal Secretary Finance Dr. Shrikant Baldi said this while presiding over State level Bankers Committee (SLBC) Special Meeting on Sampooran Vittiyea Samaveshan (SVS) – Comprehensive Financial Inclusion convened here today.
Dr. Baldi said that though Himachal Pradesh was well placed in Financial Inclusion but many areas were still not covered due to geographical constraints. He said that banks should open new branches in these areas or look for Business Correspondents like Lok Mitra Kendras or Gramin Rozgar Sewaks engaged by Rural Development and Panchayati Raj Department in our State to reach every household. He said that MNREGA has increased financial inclusion in rural areas in this State as all payments were made through banks.
Principal Secretary Finance said that in order to cover cent percent target under SVS and to make it viable, the demand for banking transactions should be created both in rural and urban areas. He said that banks should explore using mobile banking for low end phones to facilitate withdrawals, payments and transfer of money through banks.
He informed that under this scheme the banks should work in close tandem with State Government agencies, NABARD and other financial institutions to provide minimum two bank accounts to each and every household with RuPay Debit Card and micro credit of upto Rs. 5000 to the lady head of the family. He said that Card holder would also have free personal accidental insurance coverage of Rs. One lakh.
Dr. Baldi said that the banks should provide accessible and affordable financial services including Saving Bank Accounts, Micro Credit, Financial Literacy, Micro Insurance and Social Security Pension in a phased manner through Bank branches and Banking Correspondents for which a roadmap has been drawn upto 2018.
General Manager, UCO Bank and Convenor, SLBC V.K. Shrivastava informed that SLBC has identified 878 villages for providing banking services through Banking Correspondents in the State in the first phase upto August, 2015. He said that banks would open ultra small branches and also use the services of Lok Mitra Kendras and other individuals as Banking Correspondents to increase the outreach of banking services in the State.
Deputy General Manager UCO Bank A.K. Sinha, Regional Director RBI I.S. Negi, Chief General Manager NABARD K.P. Chand, Managers of various banks, senior officers of the State Government and other financial institutions were also present on the occasion.