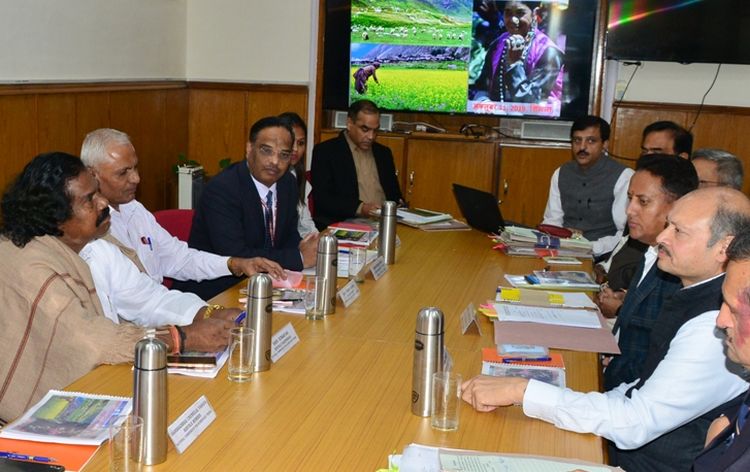 Shimla: National Commission for Scheduled Tribes (NCST) Government of India appreciated Himachal Government for its commendable performance in the upliftment of Tribal areas in the state. A delegation of NCST lead by its Chairperson Dr. Nand Kumar Sai held a review meeting with the Chief Secretary Dr. Shrikant Baldi and officials of the state government here today.
The Chairperson Dr. Nand Kumar Sai advised the state government to restrict the use of pesticides and insecticides and encourage the traditional method for crop production. He also suggested to conducting survey to identify medicinal plants and herbs that are available only at Himalayas which are capable of curing various ailments. He emphasised on their conservation so that its knowledge could be imparted among the future generation.
He said that the Commission has noted the best things available in the state and it will share these with other states so that they could also implement the same model. The commission also expressed satisfaction over the successful implementation of Tribal Sub Plan, Acts and Rules besides the single line administration and various incentives ranging from 10-35 percent being given to employees and doctors for serving in the tribal areas which has given special impetus to the development of Tribal area. The Commission said
"Himachal is ahead of other states due to its fruit production, better education, health services and equal employment opportunities. These services have been effectively implemented in tribal areas thus making them economically strong."
Chief Secretary Dr. Shrikant Baldi apprised the commission that the scheduled tribes in the state are prosperous and even the extreme interior areas is witnessing equitable development in every sector. He said that the apple and chilgoza fruits of Kinnaur and potato and peas of Lahaul are being exported across the country and it was all possible due to the better network of roads constructed by the state government.
Principal Secretary Tribal Development department Onkar Chand Sharma gave a detailed presentation pertaining to the working of the Tribal Development department and about the policies and programmes being implemented at different levels for the further development of tribal areas of the state.