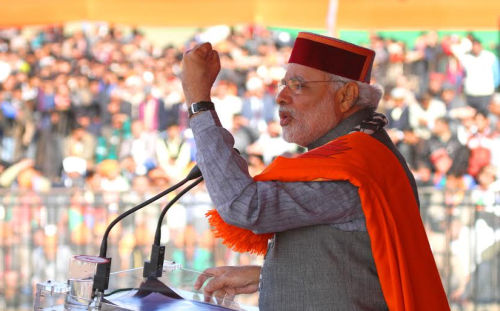 BJP prime ministerial candidate Narendra Modi attended Parivartan Rally at Sujanpur in Hamirpur district of Himachal Pradesh. With the large number of attendants, Sujanpur rally was no doubt a biggest rally in Himachal so far.
In his address Modi launched another round of attack on the UPA government at the Centre. In a scathing attack, the Gujarat Chief Minister lashed out at the Congress for sowing seeds of poison and dividing the nation. Referring to Sonia Gandhi's 'Zehar Ki Kheti' remark, Modi said "Congress is responsible for dividing the nation and Telangana is an example."
In his address he detailed out various failure of centre government and reminded their poll promise of 2009 bringing down inflation in 100 days. In his speech Modi said for the last 60 years, the Congress has done nothing towards development and promised to change everything within 60 months. Modi also raised the issue of black money stashed away abroad in his address and declared his first priority to bring back it.
Modi also blamed the Congress government for neglecting people's needs in the Himalayan states. Issue of import of apple fruit from foreign countries also gets Modi attention and he promised to form a strong and responsive policy to look into it. He also emphasized to connect various hill parts of Himachal with railway connectivity. He said that railway connectivity will not only lower the accidents in the state, but will also be good for the tourism of the state.
In course of his address, the Gujarat Chief Minister also took a dig at Himachal Pradesh Chief Minister Virbhadra Singh and gave a rhetoric punch on alleged financial irregularities during his stint as the country's Union steel minister. Modi said
If we need freedom from corruption we need freedom from the corrupt. Congress leader and Himachal Pradesh chief minister said his assets have risen 14 times and this was written in his affidavit. The prime minister says money does not grow on trees but your own chief minister became 14 times richer after money from trees
Narender Modi also remembered former prime Minister Atal Bihari Vajpayee in his address and stated that he loved Himachal a lot.
Few one-liner of Narendra Modi
I come here not with promises, but with a vision for future.
There is nothing like membership in the BJP. We have a relationship of blood and a relation for generations.
Politics has become a business for them, politics has become a profession, but for us politics is a way to serve the nation