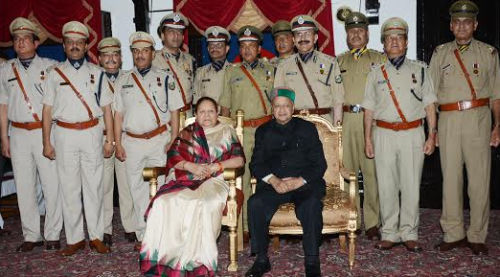 Twenty four Officers and Officials of the State Police and Home Guard were decorated with President Police and Home Guard & Civil Defence Medals for Distinguished and Meritorious Services.
Governor Urmila Singh presented medals to the recipient at ceremony held at Raj Bhawan here today. The Chief Minister Virbhadra Singh was also present on the ocasion.
Hardesh Bisht, Prithvi Raj, Shiv Ram Sharma, Abhishekh Trivedi, BM Sharma, Kuldeep Sharma, Madan Lal, Paras Ram, Rakesh Pathania, Bhuvnesh Kumar and Tek Chand were decorated with the President Police Medals (PPM).
Hari Sukh Saukta and Gian Negi presented Home Guard and Civil Defence Medals for Distinguished Services, while Deepa Ram Pundir, Vijay Singh, Ramesh Chand, Mohinder Seth, Ishwar Dass, Deva Kumari, Kumari Sunita Devi, Kalam Singh, Mangat Ram, Manorama Sharma and Ramesh Sharma decorated with Home Guard and Civil Medals.
The Governor and the Chief Minister congratulated the Medal winners. Chief Parliamentary Secretary Nand Lal, MLAs Ajay Mahajan and Sanjay Rattan, Vice Chairman, Planning Board Gangu Ram Musafir, Chairperson HP State Women Commission Janeb Chandel, Chief Secretary P Mitra, DGP Sanjay Kumar, ADGP SR Mardi and other senior officers of the State Government were present on the occasion.