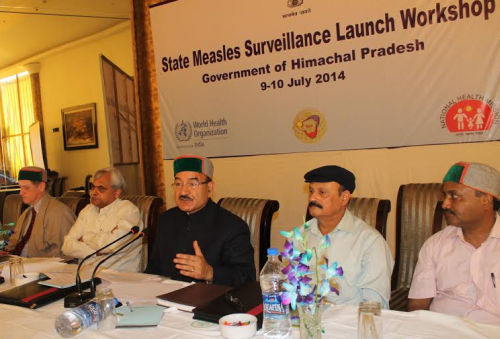 Health and Family Welfare Minister Kaul Singh Thakur said that the State Government was fully committed to control Measles mortality in the State and the launch of Laboratory based Measles Surveillance Programme was a positive step in accelerating measles control strategy in the State.
He was speaking after inaugurating Laboratory Based Measles Surveillance Programme in the State here today. This programme has been organized and launched by the National Health Mission of Himachal Pradesh along-with the World Health Organization (WHO) and the Government of India.
Thakur said that 364 doctors had been appointed by the present State Government for providing best medical services to the people besides opening of 23 Primary Health Centers. He said that nine Primary Health Centers had been upgraded to Community Health Centers apart from upgrading three Community Health Centers to Civil Hospitals.
He said that measles was the most infective diseases with high fatality rate due to pneumonia, diarrhea and corneal blindness. He urged the Chief Medical Officers and health officials of the State to work with missionary zeal to provide better health services to the people.
Health Minister said that the State had shown creditable improvement in the health sector and had been ranked as among the best ranked States in terms of various health indicators. But the challenges facing us were big and we need to tackle them adequately and appropriately. He said that with the passage of time and growing population, the diseases too had increased manifold and improving our research and development capabilities was important so as to overcome the challenges of emerging and re-emerging diseases which were increasingly becoming drug resistant.
Kaul Singh Thakur said that the State Government would be launching dedicated drop back ambulance service for expectant mothers and children till the age of one year and 125 ambulances would be provided for the service.
Health Minister said that Government was also introducing 10 Mobile Diagnostic Units with various facilities such as X-Rays, ECG, Ultrasound and lab services and their number would be increased subsequently. He said that Government was providing free services for critical care under Rashtriya Bal Swasthya Karyakaram to all children of schools upto the age of 18 years.
Thakur said that the scope of the Rashtriya Swasthya Bima Yojna had been widened by including rage pickers, all contractual employees, rickshaw pullers and street food vendors. He said that 3.83 lakh cards had been distributed and an amount of Rs. 60 crore had been spent till date under the scheme.
Health Minister said that to provide better health services in rural and tribal areas of the State, the Health Department had conducted 43 multi specialty camps, 3124 surgeries during the year 2013-14. He hailed the tele-stroke project started by both of the Government Medical Colleges of the State. He said that out reach services would commence shortly at Solan, Nahan, Hamirpur and Dharamshala.
He said that medical authorities had also been directed to give preference to the senior citizens and provide them the best medication facilities and care.
Dr. Mangla Sood, State Immunization Officer, National Health Mission welcomed the Health Minister and Dr. G.P. Dwivedi, Surveillance Medical Officer, Shimla proposed vote of thanks.
Amit Kashyap, Mission Director, National Health Mission, Dr. Rakesh Kumar, Director, Health Services, Dr. Jeff Mcfarland, Dr. P.K. Roy and Dr. S. B. Routray, representatives of WHO and other medical officers were present on the occasion.