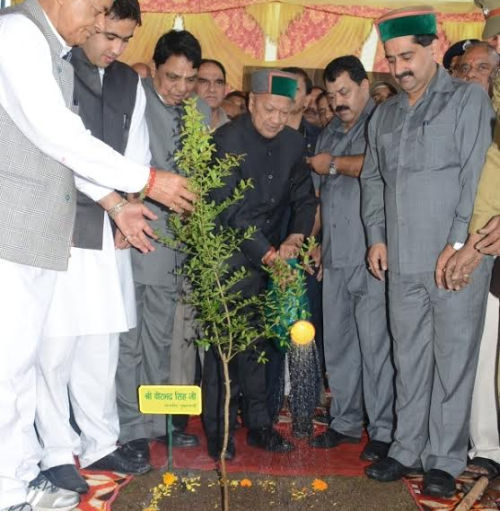 Chief Minister Virbhadra Singh launched plantation drive to mark the 65th State level 'Van Mahotsav' at Dumehari-Tikkri in Gram Panchayat Kawarag in Solan district.
He planted a sapling of Pomegranate on the occasion and also honoured the staff of the forest corporation and the department who had performed par excellence while on duty.
The Chief Minister said that the main objective of celebrating the State Level Van Mahotsav was to make people aware of the benefits and use of forests and a campaign had also been launched to make awareness about the global warming and climatic change.
Virbhadra Singh stated that a target of planting trees in 17,500 hectare land had been kept for current financial year wherein children from around 3000 schools would be roped in for undertaking afforestation drive throughout the length and breadth of the State for which a provision of rupees three crore had been made besides a target of planting 45 lakh medicinal plants. He said a sum of Rs 126 crore was being spent in fencing the plantation area in the State.
Virbhadra Singh also termed the State Government's decision of imposing blanket ban on felling of green trees in the year 1986 as historical for conservation and safeguarding the forest wealth of the State. He added that though the State suffered huge monetary loss but it help to preserve green cover of the state.
To concede to the demand of the people of the State, the Timber Distribution (TD) rights had been restored wherein the norms for distribution of TD has been relaxed. For construction of new house, seven cubic meter timber, once in 15 years and for renovation of existing house three cubic meter timber once in five year would be provided to the stakeholders as decided.
He said that emphasis had been laid on training the officers and officials of the Forest Department besides representatives of Panchayat Raj Institutions (PRIs) and Non Government Organizations (NGOs) for protecting the forest wealth and taking up afforestation drives. For this purpose, the German Technical Institute has agreed for providing a sum of Rs. 25 crore. Besides, to increase the green cover and guard the forest wealth due to global climatic changes, a decision has been taken to start a project worth Rs. 310 crore in collaboration with Germany in Chamba and Kangra districts of the State.
Principal Chief Conservator of Forests, R.K.Gupta detailed about the activities being undertaken by the forest department.
Forest Minister Thakur Singh Bharmouri, Social Justice and Empowerment Minister, Col. (Dr.) Dhani Ram Shandil, Vice-Chairman Planning Board, G.R Musafir, Vice-Chairman, HP State Forest Corporation, Kewal Singh Pathania, Chairman APMC Ramesh Thakur, Chairman, HIMFED, Ajay Bahadur, Member, BoD Tourism, Surinder Sethi, Member, BoD Pollution Board Arvind Gupta, Pradhan Gram Panchayat Kawarg and senior officers of the district administration were present on the occasion.