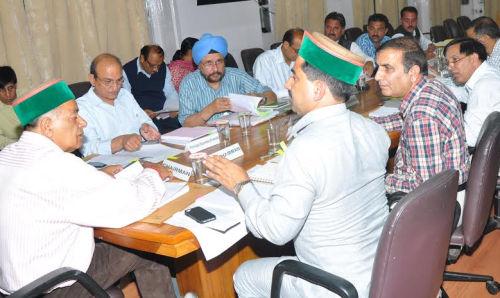 The meeting of Board of Directors of Forest Corporation was organized here today under the Chairmanship of Forest Minister Thakur Singh Bharmouri. He took stock of the steps taken for the improvement in the working of the Corporation during last one year.
The Minister expressed satisfaction that the Corporation was improving its financial viability and there was increase in extraction and sale of timber during 2013-14. Besides, the Corporation also managed to achieve 40 percent hike in sale of resin and turpentine oil. He said that a furniture unit had been established at Shamshi in Kullu district and various types of furniture were being manufactured there.
He said that the efforts were being made to increase the revenue of the Corporation for which various effective steps have been initiated. It was being ensured that Corporation could get good rates for timber by incentivizing the labour supply mates and staff. The indicators of conversion percentage had been rationalized so that easily saleable timber of various sizes could be made available in the market which would also help in reducing the conversion losses in the forests.
Bharmouri said that the efforts were being made for e-auction of timber so as to bring transparency in the sale of timber. He added that steps were also being taken for certification of timber and a high level committee had been constituted to bring improvement in the timber grading system.
Vice Chairman, State Forest Corporation Kewal Singh Pathania, Principal Secretary Forest Tarun Shridhar, Special Secretary Finance K.R. Bharati, Principal Chief Conservator of Forest R.K. Gupta and other senior officers were present on the occasion.