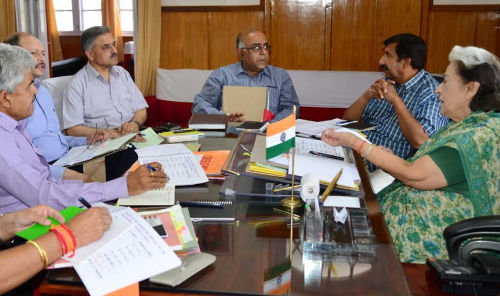 The first meeting of Executive Committee of H.P. Swan River Channelization Authority was held here today. Irrigation and Pubic Health Minister Vidya Stokes presided over the meeting.
Stokes, in the meeting, assured that the work on Rs. 922.485 crore Swan River Channelization project would be completed in a stipulated time period and over 7163.49 hectare cultivable land would be protected from floods.
Stokes said that target had been fixed to embankment 137 kilometers length of the Swan River till March, 2015. She said that 1200 square kilometers Swan catchment area would be treated under this project. She said that in addition to Swan River, 55 tributaries would be embanked. She said that under the Flood Management Programme, the project would be completed by March, 2017.
Industries Minister Mukesh Agnihotri speaking on the occasion said that 137 kilometers would be embanked during the current financial year by spending Rs. 308 crore. He said that it would be ensured that paucity of funds may not come in way of completion of this project. He said that adequate men and machinery would be made available for ensuring quality work. He said that Rs. 14 lakh had been spent on purchase of lab equipments, survey equipments and other infrastructure.
Industries Minister said that it would be ensured that scientific mining is carried out for extraction stones and sands. He said that embankments would be carried out with local river bed material to avoid price escalation of construction material.
Agnihotri said that circle and division offices were functioning in sharing accommodation and soon its buildings would be constructed and all vacant posts would be filled up on priority.
Additional Chief Secretary, Irrigation and Public Health Vineet Chaudhary, Principal Secretary, Finance Dr. Shrikant Baldi, Engineer-in-Chief, I&PH R.K. Sharma, Member Secretary, Swan River Channelization Authority and other senior officers attended the meeting.